Society rolls over establishments and this conditions you to fit in its several boxes- of gender stereotypes, tolerating salacious male gazes, fascist regimes, and unwritten norms of morality.
Those who spill out of their boxes shall be ruthlessly crushed under the wheels of power. Aabhaasam takes on those establishments with subtle scorn, strong imagery, and an underlying quest for an alternative social structure.
The Jubith Namradath directorial had hogged the headlines long before its release, for the 'Adults only' certification the movie without violence, sexual portrayals or 'indecent language' gained. No wonder, the movie slams the same power structures which censors out art and free public interactions.
Aabhaasam revolves around an interstate private bus journey, where a cross section of our society is packed on an air-bus, which is tactfully named 'Democracy Travels.' It has real people with frustrations, insecurities, dirty minds and concerns, pondering over their own anxieties and waging constant wars with their priorities and interests. Alencier Ley Lopez has done justice to his character as an innocent driver who has suppressed his sexual fantasies.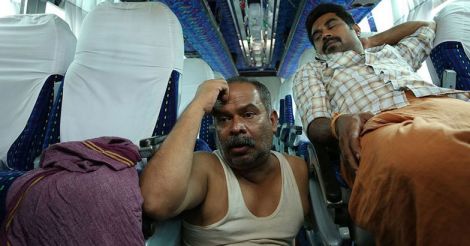 Suraj Venjarammood, with his sheer knack to enliven the many shades of a character, has impressively handled a protagonist and a villain at the same time. He is the overall representative of the treacherous, assertive and frustrated Keralite male psyche. Suraj teams up with Anil Nedumangad, Nassar, Nirmal Palazhy et al to construct a replica of the hypocritical, opportunist, prejudiced social group on the bus.
However, there are some genuine, liberated souls who dismiss the power flow and swim against stereotypes. Rima Kallingal, a lone female traveler and Sheethal Syam are some among those, who get trashed for their dissent. State award-winning actor Indrans has also played a character which leaves lasting impression on the audience.
The movie hasn't got a distinct story line and most of the characters, except a couple of them like a police officer (Nassar,) do not have specific names. Characters are referred to their seat numbers, or the obscene materialized names, like 'egg puffs' or 'erachi pathiri,' which sexual predators often use.
It highlights the thoughts and concerns of each traveler, right from a little girl who is tensed about a pedophile at her aunt's place where she's heading, to a sex-monger who gets irritated and silenced by an unsolicited touch from a man sitting next to him. Gilu Joseph and Nithin Raj has also unleashed powerful performances in the movie.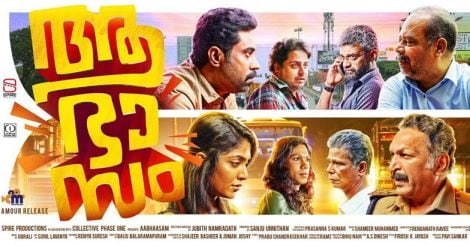 Prasanna S Kumar has donned his camera wonderfully to capture the view points of each traveler from his or her seating position. Graphics, music tracks and editing have played important roles in making Aabhaasam a wholesome artwork. The rebellious mood of the movie is maintained by the striking tracks of popular music band oorali.
Rating: 4/5