Ever since his magical voice was heard for the first time, a day in the life of a Malayali music lover seldom passes without listening to the songs of legendary singer KJ Yesudas. His art transcends languages and cultures; and appeals to the aesthetics sensibilities of millions around the world.
Yesudas is rightly called the 'gana gandharvan' or the angel of music. This legendary singer is celebrating his 78th birthday today.
Yesudas, aka Kattasserry Joseph Yesudas, was born on January 10, 1940 to musician Augustine Joseph and Elizebeth. The amazingly prolific singer has rendered more than 70,000 songs in his career spanning almost 55 years.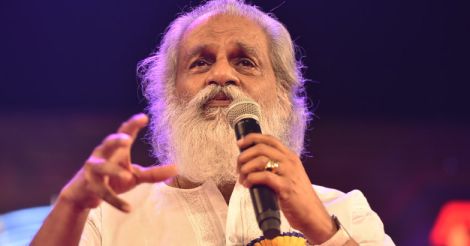 Though Yesudas started training under his father, the incredible talent in him was further polished under the tutelage of legends like Semmangudi Sreenivasa Iyer, Chembai Vaidyanatha Baagavathar, and V Dakshina Murthy.
In 1962, music director MB Sreenivasan led him into the world of cinematic music. Yesudas had earlier sung the ever green song 'jaathi bedam matha dwesham' composed by Sreenivasan. He often sings this song at all important events and venues.
It was through the memorable songs by legendary lyricist – composer duo Vayalar and Devarajan that Yesudas found a special and permanent place in the hearts of Malayalis. These songs born from the magical pen of Vayalar found life in the mesmerizing music composed by Devarajan and rendered beautifully in the divine voice of Yesudas, will continue to exist beyond the realms of time.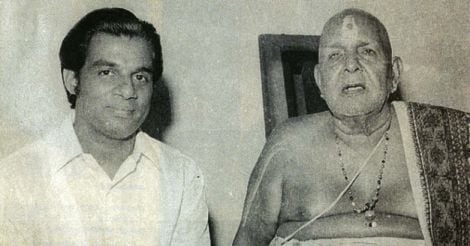 Yesudas with late Chembai Vaidyanatha Bhagavathar (file photo)
The songs from the movie Bharya made Yesudas immensely popular among the Malayali music lovers.
The country has honored Yesudas for his contributions to music by adorning him with the titles Padma Bhushan in 2002 and Padma Vibhushan in 2017. A seven-time national award winner, Yesudas has also won five film fare trophies besides winning the best singer award of the Kerala, Tamil Nadu, Andhra and Bengal governments for an impressive 43 times.
For the countless fans of Yesudas, listening to another song sung by this angel of music will always be a dream come true.