Language: Turkish
Director: Deniz Gamze Erguven
Mustang opens and closes with a hug. It's the last day of school before the summer break. Lale is seen tenaciously clinging to her teacher. She later joins her four sisters on their way home making enough hullabaloo to proclaim their freedom from school. Amid the merrymaking, they sit on the boys' shoulders, jump into the water with them, celebrating their happiness.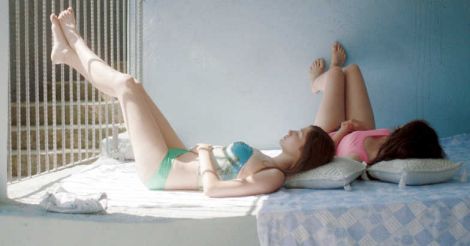 And there ends their fun. A neighbouring woman tells on them, of their 'bad behavious' to their grandmother. The girls, who are parent-less, are brought by their grandmother and uncle. A sudden embargo is brought upon them, with their grandmother taking up the task of making them well-mannered to marry them off soon.
The narrator in the film is Lale, the youngest of the sisters. The sisters unite in voicing their dissent against regressive traditions, but when it comes to living their ideas, each of them differ.
While the house was being grilled shut with the girls not let to go anywhere out, each sister finds a different way dealing with the fact that they're denied freedom. There's breaking the rules, succumbing to pressure, death and other disasters.
Lale is observant, intuitive and stubborn when it comes to her ideas. When the last of her sisters is about to be pushed into wedlock, she plans an escape.
Mustang is a story that brings into stark view, the painfully hypocritical society that the girls live in, where young girls are often subjected to molestation, but a virginity check would be a commonplace thing. The irony of many such facets of life in Turkey and the way the girls either live it out or resist is remarkably played out by the all the characters and narrated effectively by a strong screenplay.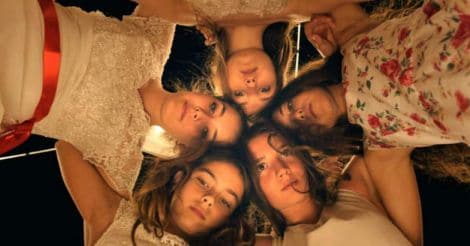 Being the debut film of the director the movie has been collecting rave reviews from film festivals. Mastang is the story of the underdogs; of the repressed lot. The cathartic experience that it induces is a big plus for the film.
And just when the movie seems to be pointing at the other women in the story as agents who carry forward these traditions, we see an exemplary scene where the aunt of the girls knocks down the transformer in their lane, so that the men watching a football game on TV inside the house don't spot the girls who sneaked out to watch the game on the ground, outwitting the women!
Mustang is a force; the stormy growling wind that threatens to sweep everyone off the ground. The girls and their repartees, their lives, laughter and pain rolled into a tiny goblet of fire is something a lot of people will take home with them.
Star factors
» Lale and her rebellious sisters exemplifying life in Turkey
» A crisp, well-edited narrative