Thiruvananthapuram: The Pazhavangadi Ganapathy Temple, in the heart of city, witnessed a good rush of devotees on Tuesday morning with many breaking coconuts with just one prayer in mind - that the rain gods should be benevolent. After all, the series-decider T20 between New Zealand and India is to be held at the Greenfield Stadium here tonight.
For the past two days the city has been experiencing rain. According to the day's forecast, showers are expected.

The match is scheduled for a 7 pm start.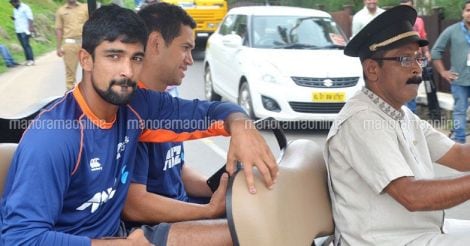 New Zealand players Ish Sodhi, left, and Ross Taylor at Kovalam.
According to legend, the Pazhavangadi Ganapathy Temple is one where cutting across caste, creed or religion, breaking a coconut with prayers is one way to keep the rains away.

"This is God's Own Country and God will be kind, as the city is to witness its first international match after a gap of 30 years. The last time an international match was staged here, India captain Virat Kohli was not even born, as well as all of us," said a group of youngsters who had arrived early in the morning at the temple.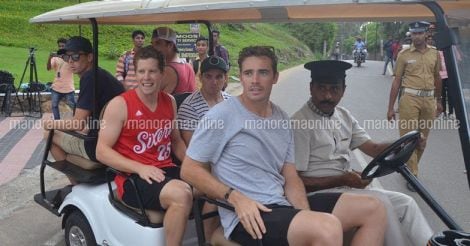 New Zealand players in a relaxed mood at Kovalam.
The silver lining, despite the rain and more rain forecast, is that the ground has one of the best drainage facilities. The organizers are certain that even if the rain gods play truant, once the rain stops, in 10 minutes the ground can be made match ready.

Tickets for the match have all been sold out, leaving many locals disappointed. More than 40,000 tickets were sold for the match, in the nearly 50,000-capacity stadium.
Read also: More Cricket News | A mighty Caribbean sixer and flashback of a glorious past