It was their dream to become part of a film fraternity. As school students they ventured out into the world of writing scripts, directing and acting. After schooling, they opted to do engineering at the St. Michaels College of Engineering and Technology at Madurai, Tamil Nadu. Each of them were placed in reputed firms. But their greatest passion compelled to step away and hone their creative skills. Thus, all of it just happened.
Today, CAT (which stands for Cinema And Technology) Entertainments Pvt Ltd headed by Amarnath Sankar, the firm's CEO, is one of the most profitable company's in the start-up eco-system.
The timeline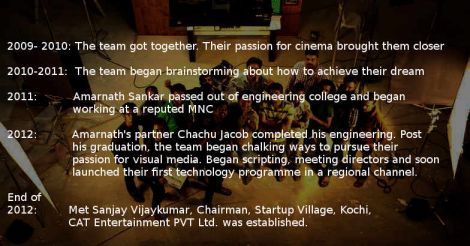 Amaranth and Chachu met Sanjay Vijayakumar at a conference. During the conference, Sanjay had briefed them about the world of entrepreneurship. "Back then, we were trying hard to get started. Upon listening to our story, Sanjay said that we were entrepreneurs and told us all about the world of running your own company. In fact, that was when we had become aware of the term Entrepreneur," Amarnath said.
Post their interaction with Sanjay Vijayakumar, the team created the first Ad film for Startup Village. The video had gone viral and soon after CAT Entertainments was formed. The firm is now the creative media partner for India's first PPP Technology-Business Incubator (TBI).
CAT Entertainments today
CAT Entertainments Pvt Ltd has produced a large number of videos and campaigns for various multi-national clients. While the firm was initially conceptualised by two people, today, the firm has about 15 permanent employees and over 50 contract employees. One of the firm's most popular presentations have been of the kickstarter campaign. "This project had single handedly contributed towards the hike in FDI for start-ups," explains Amarnath.
Behind the scenes of a Kickstarter video
Marketing and breaking-even
The firm does resort to social media so as to reach out to the public. Amarnath said, "For about two and half years, we did not consider spending too much effort on marketing as we had too many projects coming our way. But now, we have considered marketing ourselves in a more serious manner." He also added that since the firm was a service company they knew that they would be able to break even. Interestingly, the firm does not own filming equipment. The equipment is hired, reducing the cost of production to a large extent. This also allows them a chance to explore and experiment at different levels of proficiency.
Technology Product advertisement by CAT Entertainments Pvt Ltd
Tips from the expert
Amarnath and his team mates are first generation entrepreneurs. At first their families were hesitant. But after having witnessed all that they have achieved, the families have been supportive of their decisions. So what do the experts have to say about being an entrepreneur? "An entrepreneur has to be fearless," said Amarnath. He further added, "I can't advice anybody. But I shall guide any start-up entrepreneur if they tell me the reasons behind starting a new venture."
A corporate movie by CAT Entertainments Pvt Ltd. It is said to be one of the most expensive corporate movies ever produced in India. The crew had travelled across 5000 km, used 6 different cameras, sought the assistance of 2 camera units and a workforce of about a 100 people for the movie which had taken four months to produce.
In a recent edition to their many works, CAT Entertainments is part of a co-initiative called, Tastyspot. This is a social media platform for food lovers.
Any regrets?
Amarnath said that he is extremely happy and that he does not regret his decision of quitting an MNC to pursue his dream. "You learn more about life and about everything else as a start-up entrepreneur than as a regular employee of an established firm. At least, in this case, I do not have to be in-sync with any system. Also, the tag of being a 'start-up entrepreneur' is quite glamourous," he commented.