Kochi: Exploride, Inc, a company incubated at the Startup Village here, has raised more than half a million U.S dollars in pre-orders within 40 days of its international launch.
The company has received more than 1,800 pre-orders from around 50 countries.
Exploride has developed a futuristic hands-free display device for cars to combine music and GPS system. The product combines display and gesture-recognition technology to provide hands-free access to maps, calls, texts, notifications, music and the on-board diagnostics of a car.
The product, known as Exploride Heads-up Display, has received orders from most parts of the globe. The maximum number of pre-orders for the product, priced and priced at 299 dollars apiece, are from the U.S.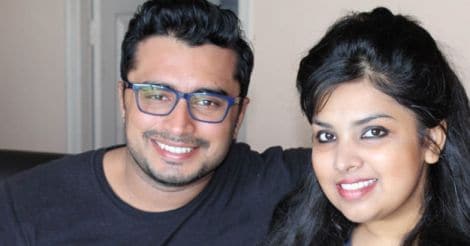 (Left) Sunil Vallath, CEO of Exploride Inc with his wife Parvathy
"Raising a whopping $512,718 in 40 days for a start-up is a feat achieved by no other company in India. "We are so excited about the global response which validates our product," said Sunil Vallath, Founder and CEO, Exploride.
The mall and portable product sits on the dashboard of cars and provides a safer and smarter navigation advice.
The utility-packed device has GPS, LTE (a 4G mobile communications standard ten times faster than 3G) and Google maps that direct the driver through the best route, removing the need for a smart phone. It also has voice activated navigation that reminds the driver to take direction every time.
Further, one can answer phone calls or decline them, raise or lower the volume and cancel the noise with simple hand gestures. Not only that, the device shows speed, tyre pressure, fuel and other engine stats. Further, apps like Apple Music, Twitter and Facebook are inbuilt in the device that also provides news and information about the weather. To top it all, its dash-cam records your driving street video which can be helpful in claiming insurance.   "From the inception, our vision was to be the global leader in the market we serve by creating a product that would be in demand for its compelling design, superior quality and best value," Sunil said.
Startup Village chairman Sanjay Vijayakumar said that the success of Exploride is a great example of global ideas being created in local ecosystems and is a blueprint for Startup India.
This is the fourth successful global crowd funding campaign at the Startup Village and now recognized and taught as a case study at IIM-Ahmedabad.
Vallath said, "We are also trying to expand our workforce and raise another 10 million US dollars venture capital fund to share the risks and rewards as the company gears up for a disruptive journey" he added.
(With agency inputs)