Several years ago, robots were a mere dream. The thought of a gadget mimicking human activities were often looked down upon. Today, robotics has a scope that lies beyond the borders of drawing board or the walls of workshop. At ASIMoV Robotics Pvt. Ltd, robotic engineering is more than the mere creation of talking gadgets. It is a way of life. It is a platform for growth and creativity. Robotics engineering is a one-way ticket to be part of the more advanced future.
The story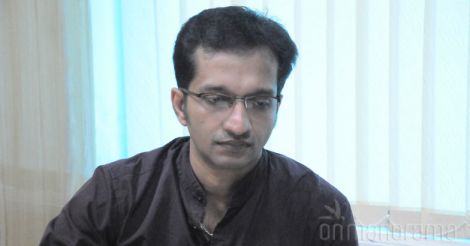 Jayakrishnan T, CEO, Asimov Robotics Pvt Ltd. Photo: Gitanjali Diwakar
ASIMoV Robotics Pvt Ltd is headed by its CEO, Jayakrishnan T (a.k.a JK). A trained electronics engineer from Model Engineering College, Kochi, JK was immensely passionate about the world of robotics engineering since college. As a student of engineering, he had tried his luck with creating a variety of innovations. Of these, two of them were related to a subject he is fascinated about - robots. JK's wife, who is also an electronics engineer by qualificaton, was also part of the team behind the robotics projects. In the following twelve years, JK had worked in many companies and was even a project manager at a popular technology firm. Sometime during the beginning of the year 2005, JK along with a few other engineers, decided to work towards fulfilling their dreams of becoming part of the robotics engineering arena. Thus, ASIMoV Robotics Pvt Ltd came into existence in the year 2012. The company was registered with the Startup Village in October 2013. Since then, the company has invented, created and explored the scope of this area of technology.
Qualifications are good, but passion matters
What does it take to be a robotics engineer?
"Being inherently a Bio-mimicry, to learn robotics, what you need to do is a close observation of nature and convert it to an engineering problem through a systematic approach which you may learn by undergoing any engineering course. In my case, I am an electronics engineer by qualification and had more than 12 years of IT experience before venturing into Robotics. I have been working in the arena of core robotics for the past 8 years.The job does involve a lot of self-learning," explained JK.
Lamarck is another prototype created by Asimov Robotics Pvt Ltd. They hope to use this model as reference for a child-size interactive robot.
He further added that in the Indian scenario, many institutes across the country have lately introduced undergraduate courses in Mechatronics but not in pure Robotics. "Unfortunately, our Mechatronics curriculum has a completely different treatment with focus on Embedded systems," said JK. 
"Hence those who want to enter into robotics, Mechatronics is just another branch of engineering; but nothing much better than  Mechanical or Electronics. It is high time that our institutes must start undergraduate courses in pure Robotics," elaborated JK.
When robots become man's best friends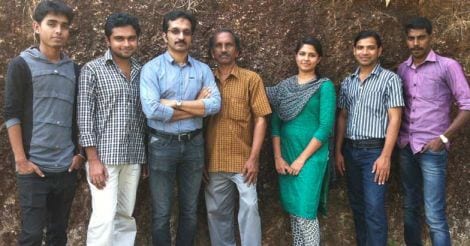 Team Asimiov Robotics Pvt Ltd.
ASIMoV Robotics Pvt Ltd is a firm that strives towards creating interactive social-robots. In other words, the firm hope produce responsive robots that could mimic human activities. The core team consists of eight members. They are: Jayakrishnan T, Chief Executive Officer (CEO) Ravikumar Venkat, Principal Engineer (Robotics & AI) SreeVishnu, Sr.Software Engineer (Robotics) Ben George, Software Engineer (Robotics) VG Udhayabhanu, Manger (Production and QA) Jushnu P, CAD Engineer (2D and 3D) Vipin K, Workshop Supervisor Serin Sara Paul, Operations Executive
The firm currently produces a variety of robotic models which are often modified so as to cater to the needs of the customer. The company has a modular approach to its operations wherein they not only focus on the software aspects of the project, but also the hardware and electronic requirements. ASIMoV Robotics Pvt Ltd has also become an industry partner in a collaborative programme on Medical Robotics which was initiated earlier this year by the Department of Bio-technology.
Running operations
ASIM0V Robotics Pvt Ltd purchases a large portion of the raw materials from South Korea. Thus, the operation costs are high. "About 34% of our income is spent on duty charges incurred while importing materials from South Korea," said JK. The firm also markets its products etc. via social media. The response has been favourable. They cater to a lot of Information Technology firms across the nation. However, despite having generated revenue, JK explains that the firm is not able to make more than what it is. The primary reason in this regard is that investors do not seem willing to invest in such firms for they are unable to judge the enterprise's scalability. "We need investors who are aware of the work we do and who is able to see the rather high scopes for scalability as well," JK said.
The journey till date
Both JK and the Ravikumar, who is the Principal Engineer (Robotics & AI), said that the journey has been great and that they enjoy what they do. "I decided to be part of this arena because I wanted to," said Ravikumar. JK added, "Had it not been for this, I wouldn't have done anything else. I live for this. Robotics is the future."
Would they encourage more people to start their own firms?
"Yes, we would," said JK and Ravikumar in unison. Both of them believe that passion is the key to success. "It is important for us to convert opportunities into an idea and not vice versa. After all, innovation does reduce competition," commented JK.
May be the future is not as far afterall.