During their 21-day trip to Kashmir, never even once did Sadiq Pasha and his four friends stay in a hotel room. At the same time, wherever they stopped, their stay was nothing short of royal.
Did they take a traveller? No. They were travelling in a Pajero Sport with a trailer in the back, which negated the need for a room to stay.
The brainchild of a Kasaragod native who have bid goodbye to his expatriate life, the trailer is equipped with a generator, bathroom, kitchen and bed for five in an AC cabin.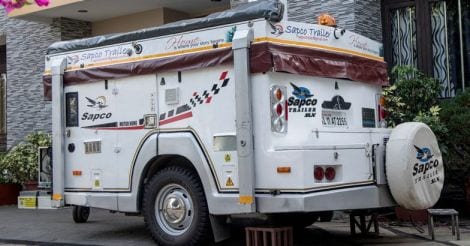 Photo by Praveen Paul
Bitten by the travel bug, the trailer was developed by Sadiq himself, and he aims to travel the world in it. Usually seen abroad where it is pretty expensive to build, how did the idea of a trailer strike Sadiq?
Dump the caravans
Saqid's success story begins with a bike repairing shop and a stint in the ship engineering field outside the country. Once he hit the travel trail after his expatriate life, he wanted it to be different. This led to the making of the trailer, and the journeys followed.
His trailer is so feature rich that if actors come to know about it they would easily dump their caravans. It has a generator, television, battery, four CCTV cameras on four sides, monitor, music system, kitchen, induction cooker, gas stove, bio toilet, fan, LED lights, 250-litre tank that holds potable water, 280-litre waste tank, cabinets to hold food items for one-and-a-half months, dining tables, chairs etc.
It takes just 10 minutes to set the trailer. Even the fridge will function with solar power. Only if they need air conditioner, they need to start the generator. There is another toilet outside. All these add up to 1,280 kg and costs above Rs 10 lakh.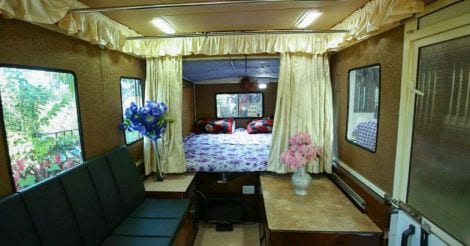 Photo by Praveen Paul
How good is its stability?
Sadiq and friends even have a story to tell about the trailer he first built on his own and their trip to Kashmir. The trailer passed through 18 states and villagers gave it a nick name - Travelling Home. However, Sadiq calls it Sapco, the abbreviation of Sadiq Pasha and Co.
All new SUVs have the facility to tow trailers. Some expensive SUVs even have safety features such as ABS that functions by taking into consideration the trailer movement too. Sadiq has done several experiments to ensure the stability to the trailer on the move.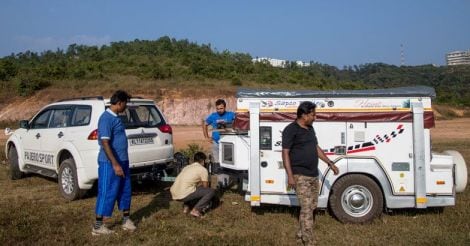 Photo by Praveen Paul
They have sped on highways with the trailer and climbed the ghats, and Sadiq vouches for its stability and safety. The trailer can be attached even to soft roader like XUV 500, he says.
The trailer measures 18 feet in length, which can be reduced to eight feet if needed. It is easier in the shorter format during the drive. Sadiq says that they have even covered the Himalayas in the trailer.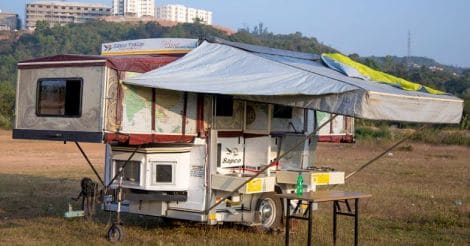 Photo by Praveen Paul
Initially, when the travel bug bit, he was using a tent trailer. Later, taking into consideration safety aspects, the fire-proof recreational vehicle trailer that Sadiq uses today was designed. He has covered 8,800 km in 21 days with five people in this "car house".
The two beds in the trailer can accommodate five persons. There is a sofa, several storage spaces and the features inside the trailer are plenty.
Sadiq has the full support of his family that includes wife Seenath, children Muhammed Salim Nadirshah, Sherin and Amina Sulfath.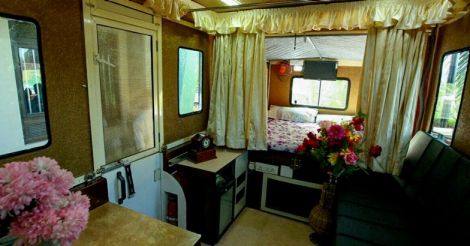 Photo by Praveen Paul
His next target is Malaysia by road. His close friend Ameer will accompany him in the journey. And they are planning to make it an adventure story worth telling the world. For more information, call 9496188188