Actor turned director Dileesh Pothan's directorial debut Maheshinte Prathikaram came out without creating much uproar, but the movie indeed proved to be a milestone in Malayalam cinema and the audience got to see a couple of brilliant new actors in that film. Dileesh in his second directorial venture, Thondimuthalum Driksakshiyum, is introducing newcomer Nimisha Sajayan, who hails from Mumbai.
Nimisha talks about her first movie. Excerpts:
Entry to movies
I got selected through an audition. When I saw the casting call, I sent my photos and they liked them. Later, when I went for the audition, I didn't know Malayalam at all as I was born and brought up in Mumbai. Dileeshettan said my looks suited the character well but was a little skeptical about my accent. In the second round, I did the look test and finally got selected in the next round. Now I speak Malayalam well. I have watched Maheshinte Prathikaram and really liked that movie. While watching that movie, my sister had told me it would be awesome if I could debut with Dileeshettan.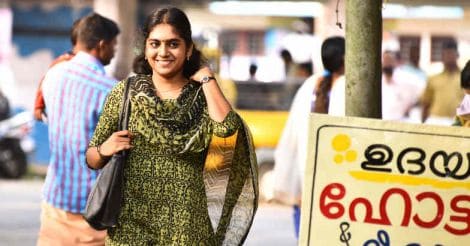 Nimisha Sajayan in the Thondimuthalum Driksakshiyum. Photo: Nandhu G
Disheesh Pothen is super cool on the sets and he is a brilliant director. I believe that I have portrayed the character called Sreeja the way he envisioned it. Before joining the industry, I did a three-month acting course at Neo Film School. I landed this role immediately after completing the course. I have also been a model and have done a few commercials.
Acting with Suraj Venjaramood
He is a fun-loving person and was friendly on the sets. But he is serious about his work and completely transforms into the character once the director says 'action'. I enjoy his movies a lot.
Movie dreams
I have always wanted to be an actress. Though I grew up in Mumbai, I wanted to act in Malayalam movies. I would send my photos whenever I see a casting call, but my family was not so keen to send me for auditions. That's why I joined Neo Film School. Fortunately, I got this role as soon as I completed the course.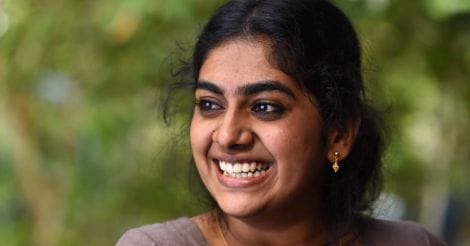 Nimisha Sajayan in the Thondimuthalum Driksakshiyum. Photo: Nandhu G
Acting in Malayalam films
I knew I wouldn't get a chance in Bollywood as I have a typical Malayalee look. But in Malayalam, I can utilize my potential in the best possible way. Bollywood is a world of 'masala'.
The character in Thondimuthal
The character of Sreeja was challenging for me because she is a village belle, while I am a modern girl from Mumbai. Sreeja is mature while I am not so mature in real life. If I have done well in this movie, it is all because of Dileeshettan.
Debut movie with Fahad Faasil
Fahad is one of my favorite actors though I have never told him. I learned a lot from him. He spoke to me about what we could do to improve or the variations that can be brought into acting and so on. Everybody was so nice to me and the atmosphere was so calm and friendly that I never felt that a movie was being shot.
I was not really scared. I acted thinking that everybody involved in this movie is close to me. It seems people really liked the scene in the song where I am having food. Many asked me whether I knew a scene was being shot. Yes, I did know they were filming me.
Comments on performance
Everybody appreciated me. My family is seeing me in a movie like this for the first time. Though they haven't said an opinion yet, I know they are happy about it.