As Vincent Pepe's sweetheart Lichi in Angamaly Diaries, Anna Reshma Rajan was quite a cutie. Playing a teacher, the comely lass not only stole quite a few hearts but also cemented her future in Malayalam cinema.
Reshma is on cloud nine today. She has every reason to be so, for it's with Mollywood's very own Mohanlal that she was paired with in Velipadinte Pusthakam. The first ever Lal Jose-Mohanlal starrer, the film is sure to open up a lot more chances for Reshma, the young nurse who accidentally hit it big-time in the industry.
Talking to Onmanorama, she opens up about the movie and her future plans.
Were you tense about the movie?
No. Not a bit. I'm not tense, but truly excited. I did not go for the preview. I just am not sure of the viewer response. I'm really anxious because I'd like to know how things have turned out after having worked with such a huge crew. When Angamaly Diaries was released, I went to watch it just to see how I looked on screen. But this time, the emotion is different.
Who do you play in Velipadinte Pusthakam?
I'm Mary Miss. It's in two different styles that I come. I will not tell you more. You have to see for yourself. Lal Jose Sir offered me this role after watching me in Angamaly Diaries. I was also told that Lal Jose sought Mohanlal's advice before zeroing in on me. It was when production controller Anish Angamaly called me up that I realized I was in. I met the director later.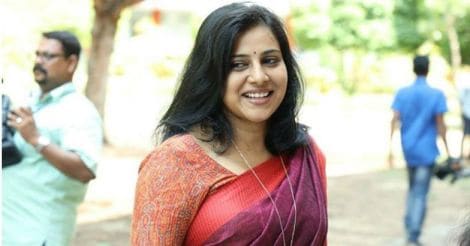 I'll go on if I get good roles. If not, it's back to nursing, says Reshma
You seem to be a bit on the wrong side of lean. Planning to trim down?
I've been asked this question so many times, so much so that, I find it difficult to eat these days. Yes, I've trimmed down. I used to gorge on sweets as I have a sweet tongue.
What's special for Onam?
I've nothing special coming up for Onam. Velipandinte Pusthakam is my Onam special.
Will you be into movies full time?
I'm a nurse. I had nursed a lot of hopes for the future. I wanted to go abroad, get a job and make a pile. That's when movies came calling. I'll go on if I get good roles. If not, it's back to nursing.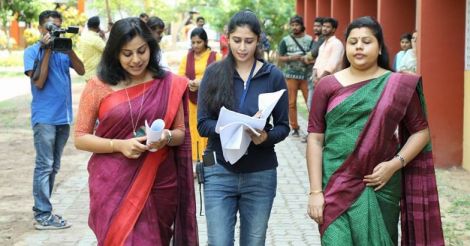 Reshma played the role of Mary miss in the movie
A teacher this time too?
That's just a coincidence. Both the teacher roles are different. The teacher in Angamaly Diaries is totally dissimilar from the one in Velipadinte Pusthakam. I'm a pucca lecturer this time and the character has had an entirely different treatment.
How about the next release?
Right now I'm into Santhosh Son of Viswananthan with Dhyan Srinivasan. We've done the first half. Aju Varghese is also part of the movie and it's being directed by Santhosh.
How did it feel like being directed by Lal Jose?
Though we got it good from him at times, he's one director who knows all about his characters and painstakingly explains what he expects from each one. "This is your character and this is how you play it and that's how I want it," he says. I believe I've done my best.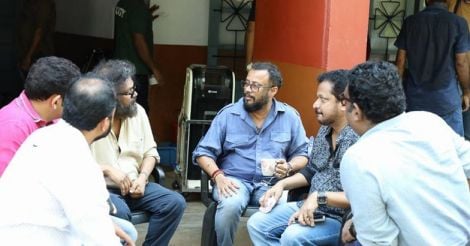 Lal Jose with team on the sets of 'Velipadinte Pusthakam'
Haven't you dreamt of a role with Mohanlal?
Let's be honest. A role with such a great actor was beyond the realm of my dreams. I'm just a beginner. I deem it an honor to have had a chance to act in such a movie. I was a bundle of nerves initially. But Lalettan is so cool. Besides, everyone on the team helped me a lot. All I wanted was to give of my best, to get the best out of my character.
Why did you change your name?
I've always been Reshma Rajan. I was christened Anna Reshma Rajan. I loved that a lot. After Angamaly Diaries, I went back to it.
What were Lalettan's first words to you?
'Aren't you Lichi of Angamaly Diaries fame? I watched the movie and it was really good,' he said. And when he said he had shared his views on Facebook, I was truly elated.
How about marriage?
No plans as of now.