Gokul Suresh Gopi's Ira is being well-received in theatres, though there is no brouhaha around the film. While people have been accepting my role as Dr Aryan in Ira, attempts are being made to denigrate me, alleges Gokul, who is the son of Malayalam superstar Suresh Gopi, in a freewheeling talk.
What about the propaganda against Ira?
There were attempts to relegate me to the sidelines as the shooting of some of my films got delayed. Even reports on these lines appeared in media. Producers started shying away from meeting me. But I am not bothered. I believe that if someone is talented nobody can stop him or her from reaching the goal.
There were reports that you quit a film midway
I believe my films should not take the audience for a ride. When I choose a film I look for something new in it. Yes, I had to leave a film midway since it was not shaping up well. I won't disclose its name. We were about to finish the shooting when I got to know that it was going to be a totally different type of film. I decided to stop working for it then and there.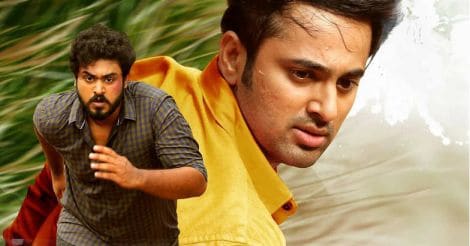 "Cinema was not in my mind though I used to do street plays and Kathakali. But somehow I got into films."
You had a low-key debut despite being a star's son
Actors Mammootty, Mohanlal, Dileep and several others made their name after entering the film industry on their own. My father too falls in the same category. They had struggled a lot during their initial days. You can still feel the energy in their films even today. I want to be like them and make a name for myself in films. My dad doesn't get involved in my film's marketing or promotional activities.
What does dad say about your films?
He saw my first film only last month and advised on bringing about some changes. He also said that I have to improve a lot. He hasn't seen 'Ira' yet, though he said that he heard good things about it. He might have been happy hearing that. The best role I like of my dad is that of Perumalayan in Kaliyattam. I saw Ira at a theatre next to my friend's house in Vaippinkara. I saw Masterpiece too at the same hall. The kind of people who come to watch films there is different. I make it a point to watch films there as I want to get their vibes.
What if you were not into films?
I had never thought that I would ever act in films. Cinema was not in my mind though I used to do street plays and kathakali. But somehow I got into films. Actually, our bread and butter has always been films. Whatever we have today is only because of films; we haven't enjoyed life through money earned from other businesses. I have that commitment to films. That will remain wherever I go and whatever I do.
Read more: Interviews | When Dharmajan taught Shanthi Krishna how to handle humour