Kannur: It takes long years to grasp the finer aspects of Kathakali, the masters say. A well-rounded practitioner blends in measured proportions the four aspects of Abhinaya, namely, Angika, Aharya, Vachika, and Satvika. There are codified hand movements and facial expressions which are closely guided by Padams (verses).
But the ingenious ones are not bogged down by the drudgery of the ancient art. There are 'quick learners' who take 'short-term courses' and earn grades in the Kalolsavam.
When Vivek Rahul (name changed) walked off the stage after his Kathakali performance at the 57th Kerala State School Kalolsavam, his guru, who has the prestigious Kalamnadalam prefixed to his name, looked very excited to talk to the reporters gathered there. This guru was quite young, in his early 30s by his looks, and like everyone else at a Kalolsavam venue, he too wanted his student to get the fame in media.
"How long have you been teaching him?" Onmanorama asked Kalamandalam Anirudh (name changed). He said," "Just a couple of months." So, a student picked up Kathakali, which is considered one of the most difficult dance forms to learn, in a few months and sadly, that's not out of passion but for winning a prize in the school Kalolsavam. This has been the practice for many years in the state as parents and teachers put their kids in the Kalolsavam circuit, eyeing the limelight and grace marks in board exams.
The situation is same with other art forms too. And it shows in the Kalolsavam results. For a Bharatanatyam contest of girls in this year's Kalolsavam, 20 participants failed to get any grade for their performances. The trend is that if the child is taking part in one dance event, the parents make them compete in other dance forms as well. In the end, the children turn out to be classic examples of 'Jack of all trades, master of none.
So, how does this machinery work? Parents enlist the services of a teacher who is known for his/her Kalolsavam success stories. They better be trained ones from Kalamandalam or Kalanilayam or other such institutes with repute. The parents are willing to shell out huge bucks for their wards' training, they've only one demand - the child should make it to the State School Kalolsavam.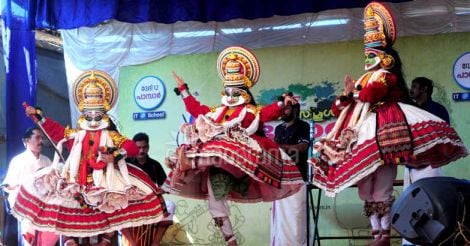 But, by using what magical tricks do these students pick up a complicated dance form in such a short span? "It is true that many students come to us to learn Kathakali within one year to perform at Kalolsavam. Kathakali is not something you can master in a year. It takes years for a person to understand why a particular mudra is used," Kalamandalam Venkataraman said.
"I usually take such students to watch a performance so that they learn the posture and the hard work an artist tries to put in. They are then trained according to their innate skills," he added.
Once they're out of school, most of these students won't take their dance training seriously. "But there are students who start learning Kathakali at a very young age and they are very passionate about the art form. It's nice to see them perform with vigor," Venkataraman said.
And when these students perform, they can be easily identified as it shows in their moves the hard training that went into molding them as fine artistes.
"Situations make humans do things. Such is the case here too. Who would not want to see their kids take part in State Kalolsavam?," asked Kalanilayam Gopinathan. He has been training his son Harikrishnan when the boy turned 9. A proper training made him stand out and he won first prize in two events this year - Kathakali individual and Kathakali group.
Gopinathan knows that the right way of training is the only way to make one eligible for the artist tag. "It shows in their moves. There's a huge difference in how the properly trained ones and the others perform," he added.
The contestants too know that for themselves.
"Yes, I know many participants who learn such classical forms in a very short period of time. They have even won prizes in district levels. But I feel that judges can differentiate between a trained dancer and a new student", said a Mohiniyatam participant.
Will these crash-course entries to Kalolsavam ever end? Unfortunately, that's unlikely to happen, Onmanorama realized while talking to people for this write-up.
(With inputs from Gopika KP)