Bengaluru: An estimated 70 per cent of the over 4.96 crore voters exercised their franchise to choose a new Karnataka Assembly in one of the most high-profile and bitterly fought elections in the recent times.
The count is likely to go up with electors standing in queues to cast their votes beyond the 6 pm deadline for the polling to conclude, the state election office said. Under election rules, voters who join the queue before the expiry of the deadline, are allowed to exercise their franchise.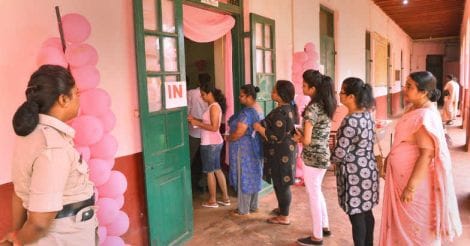 Voters stand in a queue to cast their votes for Karnataka Assembly election 2018 at a polling station in Mangaluru on Saturday. PTI
A voter turnout of 71.4 per cent was recorded in the previous Assembly elections in 2013.
Polling was held for 222 of the state's 224 constituencies following the countermanding of election for the Jayanagara seat due to the death of BJP candidate B N Vijaykumar, and deferment of voting for R R Nagar seat over allegations of electoral malpractices.
Over 2,600 candidates are in the fray, including four sitting and former chief ministers--incumbent Siddaramaiah, former BJP chief ministers B S Yeddyurappa and Jagdish Shettar, and H D Kumaraswamy of the JD(S).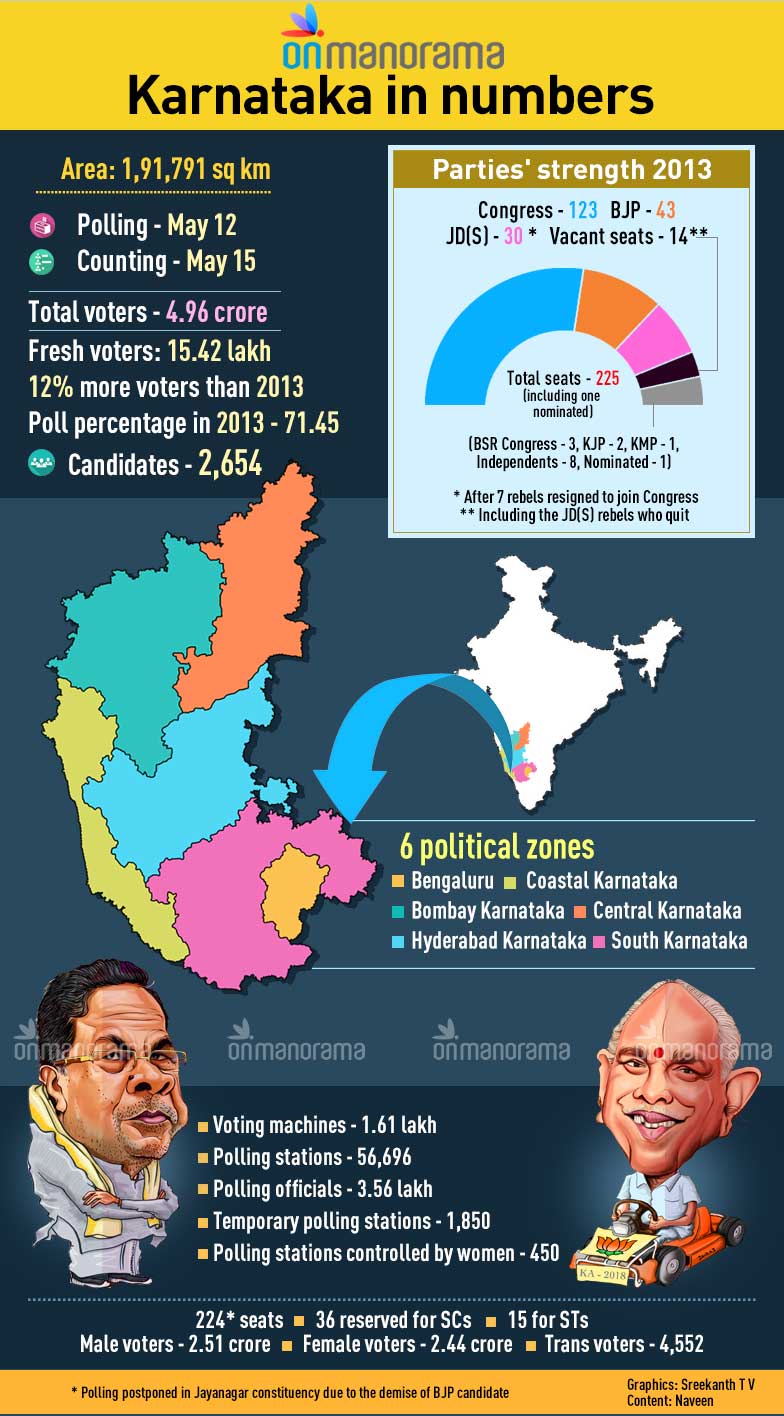 There were reports of malfunctioning of EVMs from some polling stations, and minor clashes between Congress and BJP supporters. The two parties also accused each other of inducing voters.
Pollsters have forecast a hung Assembly, with a close contest between the state's ruling Congress and main challenger BJP. Former prime minister H D Deve Gowda's JD(S), though projected to finish a distant third, is likely to play a crucial role in government formation in the event of a fractured mandate.
The outcome of the elections may have a huge impact on the fortunes of two main national parties--the BJP and the Congress--that are vying for electoral laurel in the key southern state.
While a victory would help boost the sagging morale of the Congress, which has been losing state after state since Narendra Modi came to power at the Centre, a defeat in Karnataka, the only big state it rules apart from Punjab, may further hasten its decline.
Losing Karnataka will also drastically weaken its claim for the leadership of a broader anti-BJP alliance that is being talked about.
On the other hand, a victory will help revive positive sentiments in the party ahead of the Assembly elections in BJP-ruled Rajasthan, Madhya Pradesh and Chhattisgarh later this year, and the 2019 Lok Sabha polls.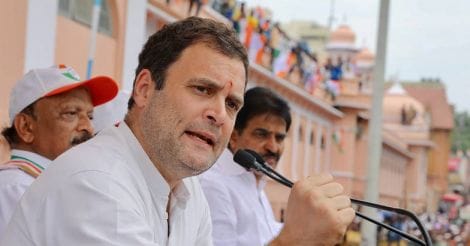 Party president Rahul Gandhi headed the Congress' campaign.
For the BJP, desperately seeking to form its government in Karnataka, which its president Amit Shah called the party's "gateway to the south", a triumph in the only southern state it ruled between 2008 and 2013, will help further galvanise its cadre ahead of the Assembly elections in the three states and the subsequent Lok Sabha polls.
A victory in Karnataka will also reflect the enduring charisma of prime minister Narendra Modi and his capacity to power his party to victory across the country, clearing demographic and topographical obstacles.
State BJP chief and party's chief ministerial candidate B S Yeddyurappa, and Pradesh Congress Committee chief G Parameshwara were among the first to cast their votes at Shikaripura in Shivamogga and Yaggere in Tumakuru respectively.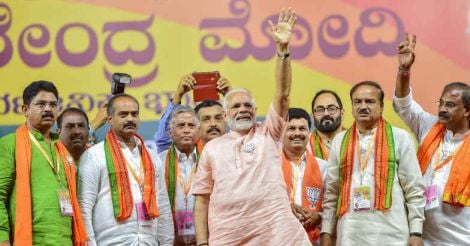 Prime minister Narendra Modi was the BJP's star campaigner.
Former premier H D Deve Gowda along with wife Chennamma cast his vote at Paduvalahippe in Hassan district.
Seer of a prominent Lingayat seminary Siddhaganga Mutt, Sri Shivakumara Swamiji, said to be 111-year-old, cast his vote at a booth near the mutt premises.
Cricket icons of yesteryear Rahul Dravid and Anil Kumble, film actors Ramesh Arvind, Ravichandran and scion of Mysuru royal family Yaduveer Krishnadatta Chamaraja Wadiyar were among the early voters.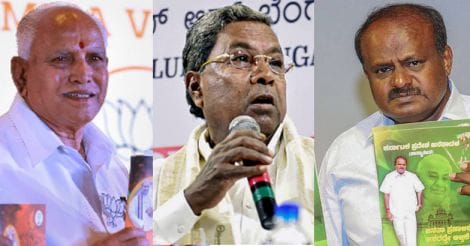 (From left) B S Yeddyurappa, Siddaramaiah and H D Kumaraswamy
A bride in Madikeri cast her vote in wedding attire before heading for marriage.
At some places "Thank You" cards were given to voters for exercising their franchise.
Counting of votes will be taken up on May 15 and results will be declared the same day.
The Congress party had a comfortable majority in the outgoing Assembly with 122 seats, 10 more than the halfway mark. The BJP and JD(S) had 40 seats each, Karnataka Jantha Paksha 6, Badavara Shramikara Raitra 4, Karnataka Makkala Paksha, Samajwadi Party, Sarvodaya Karnataka Paksha (one each) and Independents 9.