Science isn't a mere passion for these techies. It is a way of life and of course their greatest passion. It is this passion that prompted them to brain storm and work out ways to turn their interests into professions. Meet Team Riafy – a group of six engineers who redefine the relationship of subjects around them. Riafy Technologies Pvt Ltd was established in the year 2012 and is also registered with the startup village.
An urge to prove themselves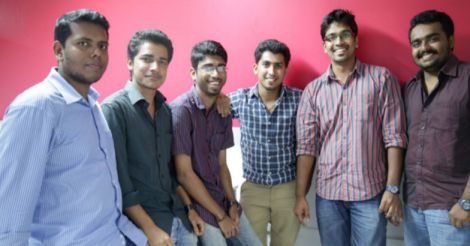 Team Riafy. Photo: SV blogs
Riafy was started by a group of college and school friends. As passionate engineers, each of them did strive hard to prove their mettle. Their love for the subject and desire to innovate led to innovations whose technology was eventually patented. Like most engineering students, team Riafy had also dreamt of doing great things and did hope to introduce a product that could be termed 'the next big thing.' This led to the creation of their first product that could predict the success of a movie before it is released in the theatres. Though the initiative did create a lot of buzz among the media and their well-wishers, the excitement was short lived. But soon, the band of boys came together for yet another product. This time, there was a lot in store for them.
Cookbook
This is a mobile application that enlists all your favourite cuisines based on the manner in which you browse the internet on your mobile phone. For instance, if you are likely to read a wide variety of health articles on the internet or have been watching fitness videos often, you are likely to see a list of health food displayed on your screen when the app is launched. "When the previous product of our had failed, we decided to get back to the drawing board and work on the next big idea," said Joseph, Co-founder and Marketing-in-charge of Riafy. "We then decided to create a product based on the requirements of the customer. We had researched on the mobile applications that had received maximum traction. It was found that health and lifestyle applications were rather popular and were downloaded by many. Thus, we were able to successfully launch Cook Book," said John Mathew, CEO, Riafy.
The tales away from the balance sheets
Apart from the Chief Financial Officer, the other members of the team do not hail from a business background. Like most students of engineering, Joseph was in a dilemma upon completing his B.Tech from Sree Narayana Guru College, Ernakulam district. After having successfully attempted many competitive exams including CAT, GATE, etc. he decided to join his friends and be part of the Startup experience. "It was tough to convince my family of my decision. For long, I was under the impression that I had to prove myself for them to accept the decision that I had taken. The scenario did change after the launch of our first product. My parents were rather impressed by the publicity that the product had received. Now, they are confident that I will be able to do well on my own," explained Joseph.
A walkthrough video of Riafy's product-Cookbook
Sreenath, the team's designer and technical expert, was no stranger to the world of the working man. He had been working as a designer since his eighth standard and was quite content with the environment at Raify.
How has the business been?
The product is the second largest player in the area of food apps with over 8 million downloads. "We are quite profitable. We did not generate much revenue during the year 2012-2013. The Cook Book app was launched in 2013. Since then we have been doing quite well," said John. The team also popularise their work via social media especially via twitter and google plus.
Friends make great business partners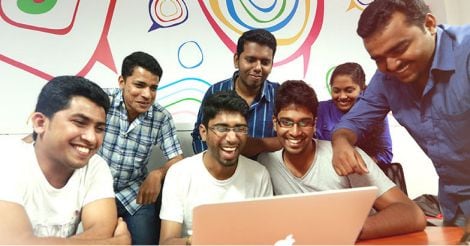 All is far in work and play - Team Riafy. Photo: SV blogs
While each member of Riafy works towards the the firm's ultimate goal, they seem to posses a great level of understanding even at a personal level. "We are formal when we have to be, but are friendly and open otherwise," said John and Joseph. Each members believes that it is the mutual trust and faith in each other that has brought them so far.
Fun to be you own boss
"We are so happy and have no regrets about running our own company. All of us enjoy what we do and we also have the liberty to take breaks as well," said Joseph. Sreenath said he enjoys working with the team and claims to finish all his work before heading out for a long bike ride. So what would their piece of advice be to upcoming entrepreneurs be? "Do it, but be passionate. You will earn enough money so long as you are good at your job," said John Mathew.