New Delhi: Newly elected president Ram Nath Kovind on Tuesday said the key to India's success was its diversity and emphasized the need to enhance opportunities for the underprivileged to help mold an egalitarian society.
In his first address at the central hall of Parliament after taking oath as the 14th president of India, Kovind, 71, advocated the need to build an India that was "an economic leader as well as a moral exemplar".
"For us, those two touchstones can never be separate. They are and must for ever be linked. The key to India's success is its diversity. Our diversity is the core that makes us so unique," he told a gathering of governors, chief ministers, senior politicians, diplomats and other guests.
Kovind, who took over from Pranab Mukherjee today, referred to the "mix of states and regions, religions, languages, cultures, lifestyles and much more" that was India.
"We are so different and yet so similar and united," he said.
Kovind said while India had achieved "a lot" as a nation, "the effort to do more, to do better and to do faster should be relentless".
He said this was especially true as the country approached the 75th Year of its independence in 2022.
India, he said, should focus on its ability to "enhance access and opportunity for the last person and the last girl- child from an underprivileged family in the last house in the last village".
This must include a "quick and affordable justice delivery system", Kovind, a dalit, said.
The president said it was appropriate that the land of the Buddha should lead the world in its search for peace, tranquility and ecological balance.
"We need to sculpt a robust, high growth economy, an educated, ethical and shared community, and an egalitarian society, as envisioned by Mahatma Gandhi and Deen Dayal Upadhyay," he said.
These principles, he said, were "integral to our sense of humanism".
"This is the India of our dreams, an India that will provide equality of opportunities. This will be the India of the 21st century," he said.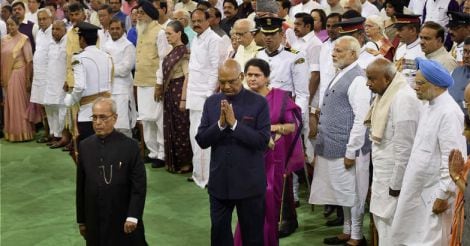 President-elect Ram Nath Kovind with his predecessor Pranab Mukherjee arrives to take oath as the 14th President of India, in the Central Hall of Parliament in New Delhi on Tuesday. Prime Minister Narendra Modi and other dignitaries are also seen. PTI
Kovind made a special reference to the role women played in "nation building".
Women who, despite responsibilities at home and work, raised children to be "ideal citizens" were nation builders, he said.
Nations were not built by governments alone, he said, for the government could at best be a facilitator and a trigger for society's entrepreneurial and creative instincts.
"The farmer toiling in the blazing sun to feed fellow citizens is a nation builder, armed forces that protect the borders are nation builders and police and paramilitary personnel who fight terrorism and crime are nation builders," he said.
The scientist sending an Indian space mission to Mars, or inventing a vaccine, was a a nation builder, too, he said.
"Nurse or doctor helping the sick to recover and fighting disease in a remote village is a nation builder. Young person who founds a start-up and becomes a job creator is a nation builder," he said.
Remembering his predecessors, including Rajendra Prasad, S Radhakrishnan, APJ Abdul Kalam and Mukherjee, Kovind said the country's independence was the result of the efforts of thousands of freedom fighters led by Mahatma Gandhi.
The principal architect of the Constitution, Babasaheb Bhimrao Ambedkar, instilled in the people "the value of human dignity and of the republican ethic".
"These leaders did not believe that simply political freedom was enough. For them, it was crucial to also achieve economic and social freedom for millions of our people," he said.
Referring to his humble background, the president said he grew up in a mud house in a small village and his journey of life had been a long one.
"It is so telling of our nation and our society also. For all its problems, it follows that basic mantra given to us in the preamble to the Constitution of ensuring justice, liberty, equality and fraternity and I will always continue to follow this basic mantra," he said.
"I bow to the 125 crore citizens of this great nation and promise to stay true to the trust they have bestowed on me," he said.
Kovind said India's voice counted in today's world.
"The entire planet is drawn to Indian culture and soft power. The global community looks to India for solutions to international problems whether terrorism, money laundering or climate change," he said.
In a globalised world, India's responsibilities were also global, he stressed.
"This links us to our global family, our friends and partners abroad, and our diaspora," Kovind said.
"It brings us to the support of other nations, whether by extending the umbrella of the International Solar Alliance or being first responders following natural disasters," he said.
Soon after taking the presidential oath, Kovind told the gathering, "Honored to be sworn in as the 14th president of India; would be carrying out my responsibilities with all humility".