'Politician-bureaucrat unholy nexus' is something journalists often write about, but this love story from Thiruvananthapuram is all about a holy bond between an MLA and a sub-collector.
Kerala's 'power couple' Divya S Iyer IAS and member of assembly from Aruvikkara constituency Sabarinathan hogged headlines in June 2017 when they tied the knot. Public attention was nothing new to Sabari or Divya even before that. He is the son of Kerala's former assembly Speaker G Karthikeyan and there was no shortage of media attention at this Congress leader's residence. Divya, a doctor-turned-civil servant, a trained dancer and an actor, had already won people's heart during her professional stints in Kottayam and Thiruvananthapuram. Her songs for Election Commission's campaign to spread awareness on ballot battle were also hailed on social media.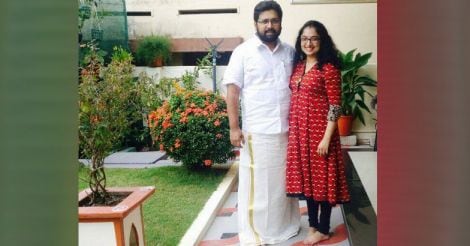 Dr Divya S Iyer IAS and Sabarinathan MLA at their residence in Thiruvananthapuram. Photo: Facebook
This Valentine's Day, Divya and Sabari share their thoughts on social commitment, love and future plans with Onmanorama.
Q: How did you meet and fall in love?
Divya: I first met Sabari for some official purpose at the collectorate conference hall premises in Thiruvananthapuram, but there was nothing special about it. Later, during a medical camp I had conducted, he phoned me to discuss some health issues and solutions for the Kottoor tribal settlement in his constituency. After this conversation, we became close friends and started realizing our common interests. Sabari put his stamp of approval on her comments with a smile.
Q: What made you choose a life together?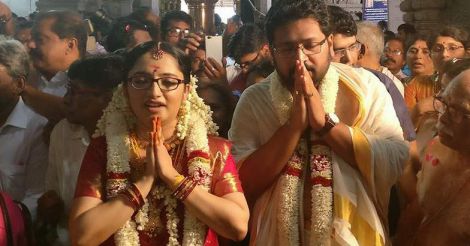 Dr Divya S Iyer IAS and Sabarinathan MLA prays at the Thakkala Kumaraswamy temple post marriage. Photo: Facebook
Divya: It was Sabari who initially expressed his mind. However, I was the first one to think on the lines of marriage, which was approved by our families as well. Our mutual interests and friendship made us realize that we were meant for each other.
Q: How do you strike a work-life balance?
Sabari: Every relationship has a distinct tone or pace to it. It is just that we must identify it and make our lives simple. Even during hectic office days, we aim for practical time management and make sure that we get back home by 8.30pm at least.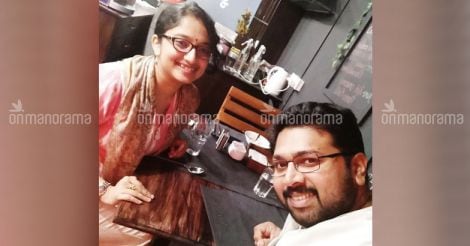 Dr Divya S Iyer IAS and Sabarinathan MLA at a restaurant in Thiruvananthapuram
Divya: We always make an attempt to keep our work and personal life pretty much sorted. When we are at home, we ensure that discussions about office and work don't creep into our conversations. We share a common world when we are together. Mindfulness is the term we use for it. It is also not necessary that we should be together 24X7 to love each other, right?
Q: Have you ever faced any situation where your personal and professional commitments came into conflict?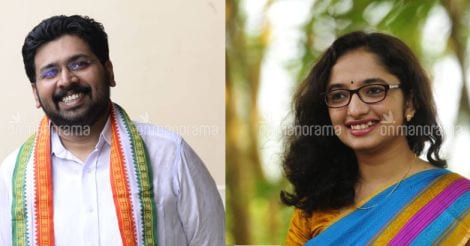 Sabari: Till date we have not faced any complicated issues that has caused a stir in our ideas. We try to find solutions for such problems, if any, at the grass-root level itself. We work as independent individuals and therefore there was hardly a tough situation so far.
Q: What is the best thing that you have done for the society so far?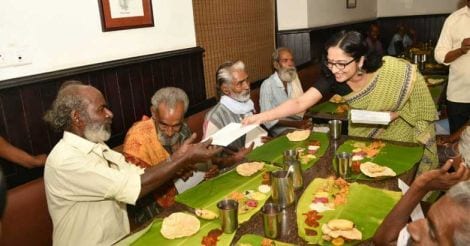 Dr Divya S Iyer IAS lunches with the homeless,invites them for her marriage
Divya: I feel happiness lies in little things that we experience each day. Whenever we go for a venture together, the joy that we see on people's faces is truly amazing. We had gone to Snehalayam, a center for destitute women at Pala to invite them for our wedding. No happiness can match the love that they showered on us. To bring a smile on someone's face is not always easy and such little stories keep us moving.
Q: One thing that hooked you the most in your partner?
Divya: Sabari is someone who has a very strong sense of humor. It is a blessing to spend each day of my life with a smile. I should actually thank him for making me laugh so much.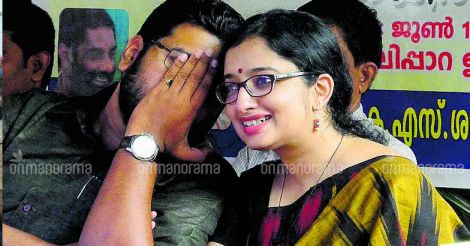 Dr Divya S Iyer IAS and Sabarinathan MLA shares the dais at a hamlet on the fringes of the Agasthyakoodam forest.
Sabari: It is Divya's clarity of thought that I like the most. She knows to think accurately and this clarity helps us resolve and find solutions even for silly opinion differences between us.
Q: The favorite gift you got from your partner?
Divya: It is a red handloom sari which he had bought for me online. I had reserved the special sari with a touch of Bengali weave for a rare occasion. Finally, I wore it for the recent Soorya festival. The 'intellectual looking sari' is my favorite and it made me realize that the MLA also has some very good aesthetic sense.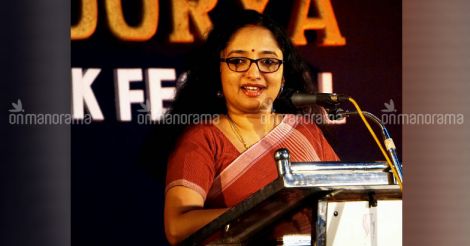 Dr Divya S Iyer delivers a lecture at the Soorya Talk Festival, adorning a red handloom saree gifted by Sabarinathan MLA
Sabari: The perfect gift from Divya was a pair of sports shoes (laughs). She wanted me to focus on fitness.
Divya: Sabari makes sure that the shoe remains 'fit and perfect' on the rack! He looks at it every morning before leaving home!
Q: What is the wider dream that you nurture together?
Divya: Writing a book together has always been in our plans. Reading is a common hobby that we share and thus penning down a few thoughts together has always been there with us for long.
Sabari: I would really love to start a small coffee hub. It would not be something similar to a posh cafe that you find in a city, rather something very earthly and natural. I know of such joints in Turkey and other places and they serve as spaces of cultural exchange and amalgamation over a cup of coffee and books. Such a venture is always there in mind.
Q: A travel experience that stays in your mind?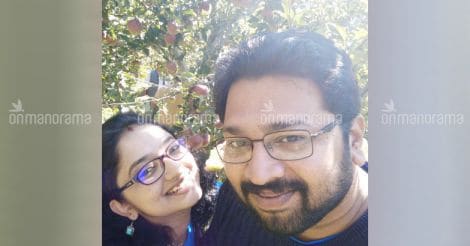 Dr Divya S Iyer IAS and Sabarinathan MLA at Manali, Himachal Pradesh
Divya: However busy we are we make it a point to visit new places. They may not be a well-planned package tour, but maybe a small weekend getaway for one or two days. Even if it is traveling in and around Thiruvananthapuram we enjoy it a lot.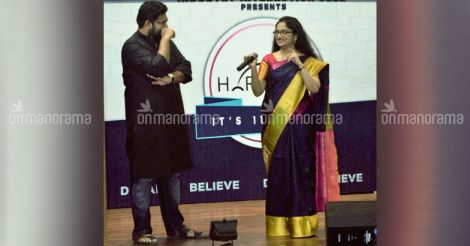 Dr Divya S Iyer IAS and Sabarinathan MLA delivers a lecture at IIM Kozhikode
Sabari: Recently we had visited the IIM-Kozhikode campus for a management fest. We had a rare chance of a joint lecture there which was an insightful experience. Following that we went to the recently renovated Mittayitheruvu. It was an unplanned natural stroll, but people recognized us and interacted freely with us, making the trip memorable. We had a gala time shopping some famous Kozhikode halwa also!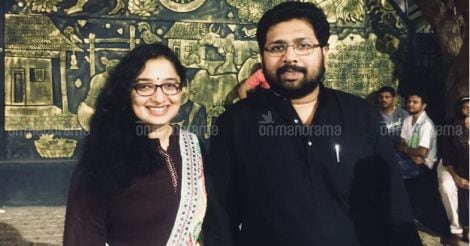 Dr Divya S Iyer IAS and Sabarinathan MLA at Mittayitheruvu, Kozhikode
Q: A word for youngsters?
Sabari: Approach love and life without preconceptions. The soul of a relationship lies in the time we invest in exploring and understanding the true value of our relationship.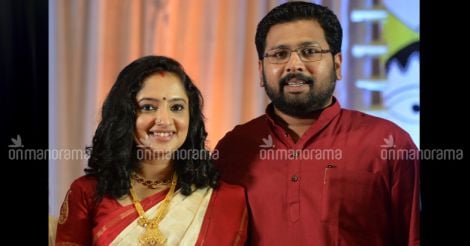 Dr Divya S Iyer IAS and Sabarinathan MLA during their wedding reception: Photo: Rinku Raj Mattancheriyil
Divya: I feel that sincerity is the most important part when it comes to nurturing love. It is important to be trustworthy in a relationship.