Bengaluru: A day after Karnataka threw up a hung verdict, both BJP, the single-largest party, and the Congress-Janata Dal (Secular) combine have reiterated their claim to form the government.
Though the reports about three missing MLAs have set the alarm bells ringing in the Congress-JD(S) camp, the leaders have maintained that their numbers are intact.
However, news agency ANI reported that JD(S)' MLAs Raja Venkatappa Nayaka and Venkata Rao Nadagouda were missing from the ongoing JD(S) legislative party meeting in a hotel in Bengaluru on Wednesday.
Reports also said that out of the 78 Congress MLAs, only 66 turned up for the Congress legislative meeting at the Karnataka Party Congress Committee office in Bengaluru on Wednesday. Some reports said that the party was not able to contact three of its MLAs.

Congress leader Ghulam Nabi Azad said, "JD(S) has all the faith in their MLAs. Nobody is going to go away. Let the BJP try, whatever they want to."
JD(S) leader Saravana confirmed that his partymen were getting calls from the BJP but asserted that there has been no defection. "I don't know what they (BJP) are offering but they are trying to call our people, but they are not responding. We are all together, no one can touch our party. Our party MLAs are loyal to the party."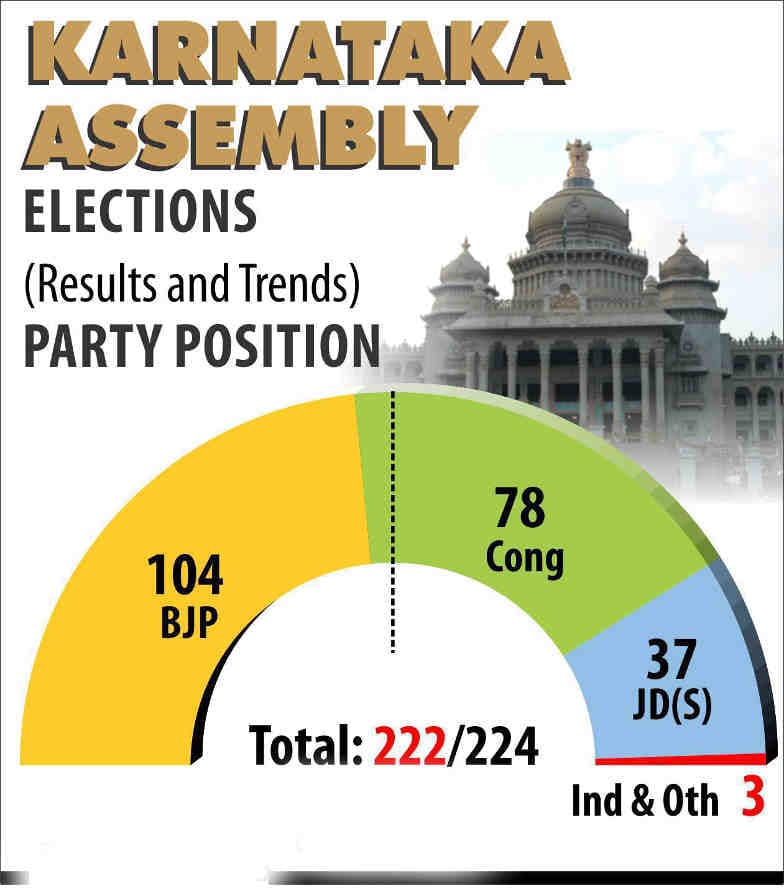 The BJP camp too sounded upbeat on Wednesday with its CM candidate BS Yeddyurappa claiming that the BJP will indeed form the government.
"We will claim to form the government. Most probably we will ask the governor to give us time tomorrow," Yeddyurappa said on Wednesday.
The May 12 state elections threw up a deadlock with the BJP winning 104 seats, just nine short of the 113 needed for a majority in the 224-member Assembly.
All eyes are now on governor Vajubhai Vala who will have to decide whether to call BJP to try to form the government or go with the JD(S)-Congress combine, which together have a clear majority in the 224-member assembly.
However, any change in numbers on either side could rewrite the politics in Karnataka.
The BJP-led NDA had won most of the assembly elections in the recent past and if they managed to form the government in Karnataka it would be the 21st state to be ruled by the saffron party.

Read more: Latest on Karnataka polls