Bengaluru: Karnataka chief minister H D Kumaraswamy Wednesday said the JD(S) along with Congress had succeeded in tying prime minister Narendra Modi's 'Ashwamedha' horse (victory horse) in Karnataka, fulfilling his aim.
"I had said after the Uttar Pradesh election results came out that my aim is to tie the Ashwamwedha horse of Narendra Modi and Amit Shah (BJP president).
Today both Congress and JD(S) together have tied that Ashwamedha horse in Karnataka," a jubilant Kumaraswamy said.
Calling himself a "child of circumstances," Kumaraswamy said he decided to join hands with the Congress on the advice of several political leaders in 'national interest.'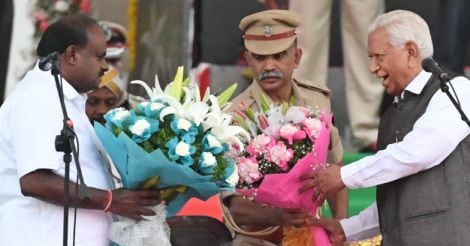 Kumaraswamy swearing-in: Josekutty Panackal
Speaking to reporters after being sworn-in as the chief minister he said, "probably, in the days to come, Amit Shah will have to go to Narendra Modi with a lifeless Ashwamedha horse, as we have tied their horse."
He said many people were having doubts whether the coalition government would last and assured them that he would provide a stable government.
"There is doubt whether this government will last long. With my conduct and that of my government, I will ensure that such apprehensions are put to rest," he said.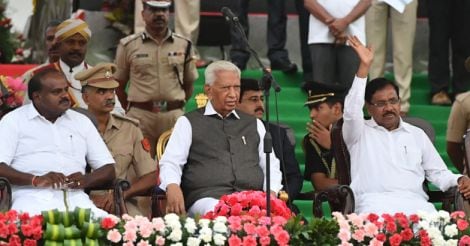 Kumaraswamy with G Parameshwara: Josekutty Panackal
Conceding that people had these doubts because the JD(S) broke away from the Congress in 2006 to form a government with BJP, Kumaraswamy said "...the nature of our (JDS, Congress) relationship thereafter has led to a doubt about our confidence in each other, and can we work together."
"I want to tell people of the state that this government will be a stable one. This coalition government will be more stable than one party government.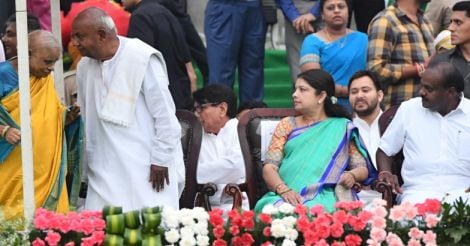 Dewe Gowda, wife, Anita Kumaraswamy and Kumaraswamy: Josekutty Panackkal
We will not give chance for any differences and we will work to solve the problems of the state," he added.
JD(S) that had fought bitterly against the Congress, especially in old Mysuru region, had to join hands to keep BJP out of power in Karnataka, where the May 12 assembly polls threw up a hung assembly.
Pointing out that he had said before the election that if no party gets majority, he would sit in the opposition and would not reach understanding with any party, Kumaraswamy called himself a "child of circumstances."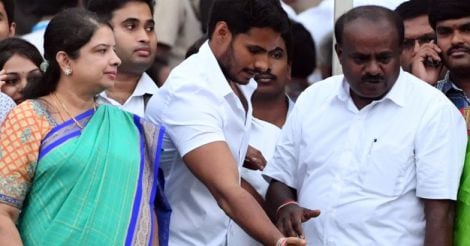 Kumaraswamy, Anita Kumaraswamy and son Nikhil
"I'm a child of circumstances; it was unavoidable for me to keep aside my personal wishes and decisions," he said.
The chief minister said several national leaders after the assembly election results advised him to form the government with Congress, keeping the national interest in mind.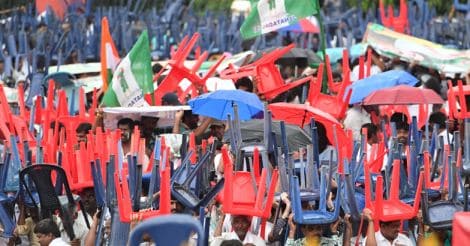 People shield themselves with chairs after rain started at the swearing-in venue: Josekutty Panckkal
Citing the presence of several political leaders at the swearing-in ceremony, Kumaraswamy said "they all coming together makes me feel, it is a new development.
With their coming together for the ceremony, you may understand why I called myself a child of circumstances," he added.
Congress president Rahul Gandhi, his mother and UPA chairperson Sonia Gandhi, West Bengal chief minister Mamata Banerjee, N Chandrababu Naidu, and Pinarayi Vijayan, her counterparts in Andhra Pradesh, and Kerala respectively, were present.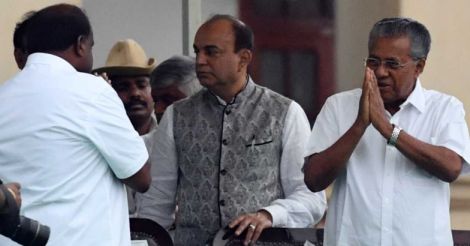 Kerala chief minister Pinarayi VIjayan at the swearing in ceremony
Tejashwi Yadav, the leader of opposition in the BiharAssembly, BSP chief Mayawati and SP leader Akhilesh Yadav, who have struck an alliance in Uttar Pradesh, NCP leader Sharad Pawar, CPM general secretary Sitaram Yechury, and socialist leader Sharad Yadav were also in attendance.
The show of strength by a galaxy of national leaders and regional satraps is being seen as a strong signal to the BJP about the possibility of formation of a broad-based front to take on the BJP-led NDA in the Lok Sabha polls next year.
Admitting that there were challenges ahead of him, Kumaraswamy said "it will not be easy for me to run this government easily. I will have to take every step with caution, such is the situation."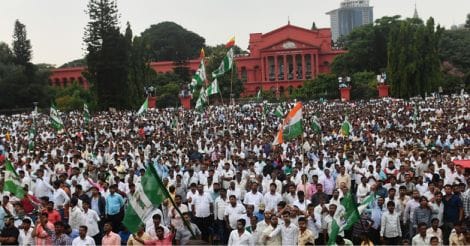 A watchful crowd: Josekutty Panackkal
He said many leaders feel that under his leadership the new government would prove to be a "model government."
"I will try to keep up their trust and that of people in me and I will go ahead," Kumaraswamy said.