It is reversal of fortune for a miffed Bharatiya Janata Party (BJP) as its legislators wore black badges to the swearing in of HD Kumaraswamy as chief minister of Karnataka at 4:30 pm on Wednesday.  
Shrewd politician
For the BJP, the stairs of the majestic Vidhana Soudha where governor Vajubhai Vala administered the oath of office to the new chief minister was an altar of deception and betrayal. The party had to swallow the bitter pill of opportunist politics as Kumaraswamy, whose previous alliance with the BJP in 2006 hoisted him to the CM's chair, refused to step down as per a power-sharing pact, on October 4, 2007. He submitted his resignation to Karnataka governor Rameshwar Thakur and the state was under president's rule two days later. However, a shrewd Kumaraswamy was quick to reconcile with the BJP and his JD(S) offered support, paving way for BS Yeddyurappa to be chief minister, from November 12, 2007.
Common factors
Kumaraswamy earned the monicker of 'people's chief minister' when he was in power. He swiftly build a political image in line with his father HD Deve Gowda's 'pro-farmer prop.' Political observers say the former was but a world apart from the 'son of the soil' that his father was, with interests ranging from film production to flashy life. Journalists, in a jocular vein, say the physical list and an unbridled aspiration for power are the only things in common between father and son.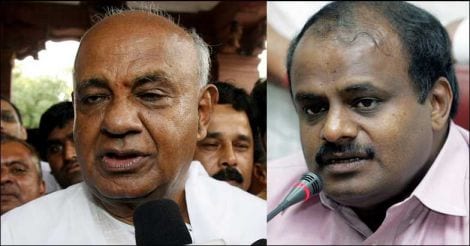 Political observers say Kumaraswamy is a world apart from his father HD Deve Gowda
Wedded to controversy
Kumaraswamy courted controversy by marrying Kannada actress Radhika in 2006 in spite of a first marriage with Anitha on March 13, 1986. The wedding was under judicial scrutiny for violating section 494 of the Indian Penal Code. The Karnataka High Court had but dismissed the case for 'want of evidence.'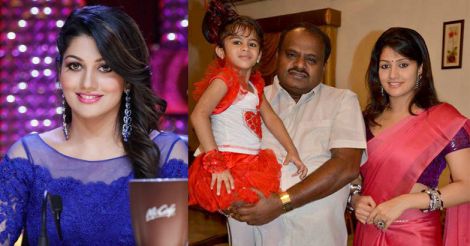 Kumaraswamy courted controversy by marrying Kannada actress Radhika in 2006.
Man of the stars
Kumaraswamy's penchant for astrology and allied codes like Vastu are also popular. Grapevine has it that he gets his favourite astrologers to take a hard look at the celestial patterns before taking major decisions. Now, sources say he is opting against staying in government bungalows Anugraha and Cauvery as two astrologers have warned him against making those the CM's residence.
The CM is expected to stay put at his residence in JP Nagar and hold Janata Darshana events at the official residences. Incidentally, Anugraha (boon in English) was where he stayed when he stepped down as CM in 2007. As Anugraha wasn't a boon and Cauvery is running dry and implies sharing, the CM's choice may seem logical even to rationalists. However, Kumaraswamy has time and again denied that he is superstitious. He cites a reduced stress on the exchequer if the CM abstains from using an official bungalow.
Issues, power-sharing
The new CM is already pounded and pierced by the demands of coalition politics. The initial announcement that Kumaraswamy alone will take oath on Wednesday had to be quickly withdrawn after the Congress leaders responded sharply. Dalit leader and Karnataka Congress president Parameshwara will also be taking oath on the day as deputy CM.
More than anything, the politics of coalition will put to test the quintessential politician in Kumarawamy. His innate reluctance to 'share' may cost him dear in the light of the SC order to share its Cauvery waters with its parched neighbour Tamil Nadu.
A major relief should be Deve Gowda's statement that he will not meddle in politics. After all, all good starts from a supportive family back home.
Read more: Latest Kerala news