P.K. Kunhalikutty remains a power center in Kerala even after he was elected to the Lok Sabha as a representative of Malappuram early this year. The former state minister has always been close to the first family of the Muslim League at Panakkad. Kunhalikutty's house at Karathode is hardly three kilometers away from the Kodappanakkal family house at Panakkad but the two families have always been close to each other.
Kunhalikutty found his calling in politics as soon as he earned a BCom degree from the Sir Syed College at Thaliparamba, except for a short stint as a textile entrepreneur in Malappuram. He was then elected the chairman of the Malappuram municipal council when he was just 26. The next year, he was elected to the Kerala Legislative Assembly.
Kunhalikutty's election to the Lok Sabha necessitated the assembly by-election in Vengara. The Malappuram MP shares his views to Onmanorama on the campaign and his party's prospects.
Vengara is a Muslim League stronghold. How do you evaluate the election?
The Muslim League should have a majority of about 30,000 votes. We are working to increase the margin. At the last stage of campaign, we are even confident of getting a lead of 40,000 votes. The United Democratic Front has a large vote share here.
So you expect the victory margin to be greater than last time?
We will definitely retain our lead. We hope to increase it by working hard. That is the estimate now.
But can K.N.A. Khader be a Kunhalikkutty in Vengara?
Everyone has his own talents. Khader's strong area is parliamentary work. Mine is different. The people will have their own opinions.
Many fine parliamentarians are not seen as benefactors of their constituencies. In fact, Khader faces such allegations from the opposing camp in Vengara.
That is because the scope of parliamentary work has changed. An MLA is supposed to be a lawmaker. Every party has to have a right mix. If you only have members who confine their work to their constituency, we cannot go forward. That is not fair to democracy. The assembly has a fine library. You have to do a lot of work before presenting something in the assembly. It will take time.
What you said is right. The decentralization of power has put more responsibilities on MLAs and the local self-government bodies. Some members may be interested in parliamentary work, while the others will focus on local issues. Khader has done a lot of development work in Vallikkunnu when he was an MLA. So Vengara has no reason to worry. I am also here as an MP. I will also pay attention to local matters.
The Left Democratic Front alleges that Kunhalikutty has not ushered in development in Vengara.
Because they do not know. As much as 250 acres have been acquired for the Edu City when I was a minister. That includes the land that belonged to my family before the government took it over as part of land reforms. The UDF government brought an Edu City there. It is a beautiful compound. That is our answer to the LDF's propaganda. We have training centers and skill development centers for ITI diploma holders. We can even bring in information technology companies. Let the LDF government advertise it.
Edu City was shaping up when the government changed in Kerala. We could have brought in more companies. We had also planned a cancer center in the public sector. All that has been caught up in red tape. The problem is the stagnation of the LDF government. There is no point in passing the buck to us. You can raise it as an allegation because of the election.
There were reports about disputes within the party about the candidate for Vengara. The LDF says that the Muslim League had initially proposed Latheef but some last minutes manipulations worked in favor of Khader.
Those reports were made up by media. We had to meet only once to fix the candidate. Everything else is rumors. Manorama had reported it correctly. Everything else is false.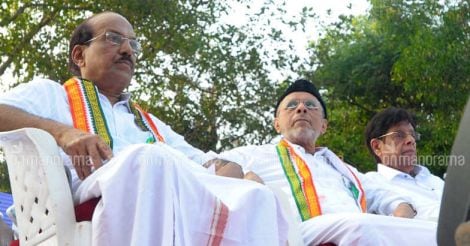 P.K. Kunhalikutty with Panakkad Syed Hyderali Shihab Thangal and E Ahamed. File photo: Manorama
You were a public face of the UDF. Has the front weakened by your shift to Delhi?
There was a void left by E. Ahamed. Let me ask you something. Who else could have you found to replace him in Malappuram. It was not easy for the party to find a replacement. It is easier to find a candidate in an assembly seat. We cannot afford to cut down on our lead in a constituency like Malappuram. It would not be politically correct to opt for a weak candidate in a parliamentary seat. That is why the party asked me to contest. Then we need a strong alliance against the BJP at the center. The party believed that I could be of help there.
So you are saying that your absence has not affected the performance of the UDF in Kerala?
We had made it clear at the time of declaring my candidature, that we would ensure that the activities of the front would not suffer. I have spent more time in Kerala than in Delhi.
The opposition's work is criticized even from within. Has the front constructively reacted to the issues including the liquor policy?
Everything has its time. The dissatisfaction against the LDF rule is growing. The government is unable to do anything. The opposition does not have to lead a violent struggle against the government. We are sure of getting a majority even if go ahead with peaceful Gandhian methods of agitation. We have proved it in the times of A.K. Antony. There was a campaign that Antony was a failure as an opposition leader. But he bounced back. The sentiment is turning against the government now. The UDF will organize timely programs to channelize it. I will be a part of it. I do not have to be in the assembly for that. We can decide later whether I should come back to the assembly or not. I am still active in the state politics. There is no harm in shifting to Delhi. I could do some work there. We could organize the 18 parties in the UPA into frequent meetings and keep the dialogue going.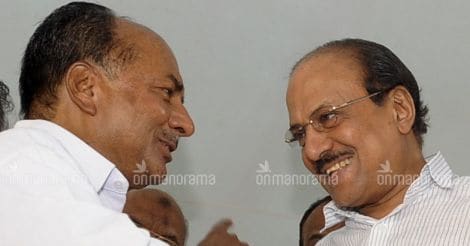 Kunhalikutty says there was a campaign that Antony was a failure as an opposition leader. But he bounced back.
Will you return to the state politics?
That is for the party to decide. This is not the time to discuss it.
Your opponents suggest that you have drifted apart from the Panakkad family.
That's pure nonsense. I do not want to respond to those allegations. I go there every day if I am here. We are a family.
Read more: Latest on Vengara by-poll | In Vengara heat, pollsters take a 'cool' break in Kashmir