Vengara results
• UDF's K.N.A. Khader wins Vengara Assembly by-poll with a margin of 23,310 votes  
• UDF candidate's lead has dipped versus 2016 polls
• LDF's P.P. Basheer came in second, but increases vote share   
• In Basheer's panchayat – AR Nagar – LDF was able to gain lead only once
• SDPI relegates BJP to 4th slot  
• While Khader got 65,227 votes, Basheer came second with 41,917 votes. BJP candidate K. Jayachandran secured 5,728 votes and SDPI'S K C Naseer got 8,648 votes.
What the leaders said
• 'I am going back with lots of happiness as the Left did their best to see the back of me, but I managed to win easily. I thank all the people of this constituency and the UDF leaders,' says Khader after victory
• IUML leader and Malappuram MP P.K. Kunhalikutty says the LDF's 'solar' bomb did not affect the mood of the electorate
• Basheer says that he has been able to break the myth that the IUML was all prevailing and powerful
• CPM state secretary Kodiyeri Balakrishnan says a sharp dip in the margin is a political setback for the UDF
• Senior Congress leader A.K. Antony says the BJP's relegation to fourth position should be seen as an important development. Says Khader may not have the same influence as Kunhalikutty, who is from Vengara
• Former CM Oommen Chandy: We expected a bigger victory margin. But it appears that Kunhalikutty wields a higher influence among the voters

• Kerala chief minister Pinarayi Vijayan said that the LDF had put up a good fight in Vengara. He also said that the BJP has suffered a huge setback and cautioned that the SDPI's growth needs to be checked.
• Veteran CPM leader V.S. Achuthanandan said that the Left's influence has increased and the Vigilance probe into solar scam has could have had an impact on the results.
Trends

• At 10.18 am, UDF lead crosses 23,000-mark, wins by-poll: IUML - 65227; CPM - 41917; SDPI - 8648; BJP - 5728
• At 9.50 am, UDF lead crosses 18,000-mark: IUML - 49502; CPM - 31608; SDPI - 6459; BJP - 5160

• At 9.30 am, UDF lead crosses 15,000-mark: IUML - 42356; CPM - 27229; SDPI - 5624; BJP - 4650
• At 9.30 am, UDF lead crosses 12,000-mark: IUML - 36364; CPM - 23617; SDPI - 4717; BJP - 4203
• At 9.25 am, UDF lead crosses 10,000-mark: IUML - 32429; CPM - 21351; SDPI - 4223; BJP - 3853
• At 9.15 am, UDF lead crosses 9,000-mark: IUML - 25829; CPM - 16327; SDPI - 3627; BJP - 3151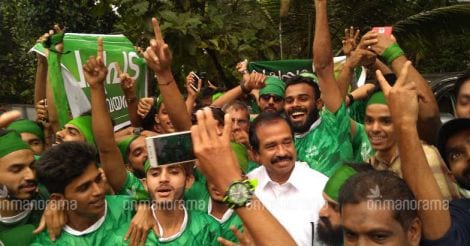 • At 9.05 am, UDF lead crosses 7,000-mark: IUML - 21372; CPM - 13945; SDPI - 3045; BJP - 2583
• At 9 am, UDF lead crosses 6,000-mark: IUML - 17759; CPM - 11482; SDPI - 2502; BJP - 2001

• At 8.50 am, UDF's lead at 4,000-mark:  IUML -11132; CPM  - 7777; SDPI   - 1515; BJP   - 1412
• 500 NOTA votes
• Votes polled in 165 booths counted in 12 rounds; Only one postal vote
• Counting of votes of the October 11 by-election to the Vengara Assembly held at PSMO College, Tirurangadi
• Ahead of the counting, IUML's K.N.A. Khader exuded confidence of victory. Vengara will not forgo League, he says
Read more: Latest on Vengara by-poll | Vengara voting ends on a high note