"S.A. Chandrasekhar made his son Vijay the 'Ilayathalapathy' of Kollywood. Sivakumar's son Surya became a superstar. Your father will definitely see to it that you carve a niche in Malayalam cinema." Well, that's how Dhyan Sreenivasan's loyal friends in Chennai consoled him when the celebrity kid unwittingly amassed a shed-load of arrears in his B.Tech exam.
But back home in Kerala, Sreenivasan, the actor dad, had given up on his son, who took his studies too lightly. Years went by and Dhyan debuted as an actor in his brother Vineeth Sreenivasan's directorial venture Thira. And now, the prodigal son is getting to ready to don the director's hat for the first time.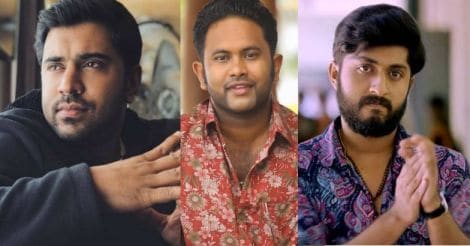 Movie dreams
"When I came back from Chennai, my only aim was to get into the movie industry with dad's help. But when he learned about my intentions, he became really furious. He was angry that I dropped my studies. I understood that I did not stand a chance in Malayalam movie. So my next aim was the Tamil cinema. My life is an exact copy of Umesh, the protagonist of Oru Vadakkan Selfie, until he takes the selfie on train. I've wandered a lot in Chennai looking for an opportunity in films," he says.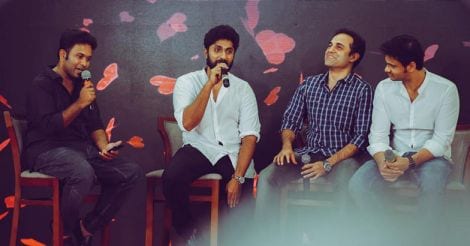 The team at the launch of the movie. Photo: Facebook/ArjunThomas
Lost in Love
Remembering his Chennai days, Dhyan says, "I stayed in a small lodge and my friends who were there with me, especially Shaji, kept pushing me to write a story for a short film. Finally I gave in to it. But when I started writing, I understood that my writing skills in Malayalam were not very impressive. Most of the dialogues turned out to be in Tamil."
The short film 'Lost in Love' had all essentials ingredients of a typical entertainer – romance, high drama and action.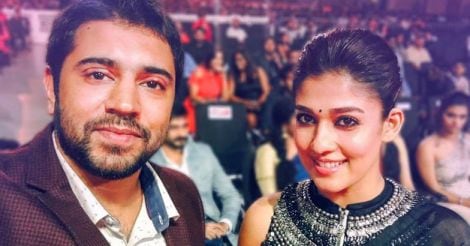 Movie debut
Apparently, it was Vineeth who gave him Rs 50,000 to make the short film. But with that money, he could shoot only half of the film. "When the budget shot up, I approached my brother once again and got Rs 50,000 more. With it, I went for a trip to Goa. Later, some day, he happened to see a few parts of the film I had shot until then told me that I did well. He did not talk anything about it for the next few days. The scriptwriter of Thira, Rakesh, is our relative. Both of them might have had a few secret discussions. One fine morning, Chettan told me that I would be his hero in Thira," he says with a smile.
Venturing into direction
When Dhyan did 'Lost in Love' eight years back, he was all of 21. He elaborates: "The script that I wrote then would run into a one-and-half-hour-long movie. At that time itself, many asked me to make it into a feature film. Recently, when I was having a random chat with my friends about some scripts, it was Aju Varghese who mentioned about my old short film. Everybody else liked it when they heard the story and thus, I decided to become a director. The name of my first movie as a director is Love Action Drama."