Chengannur: Discounting BJP's claim that it will emerge victorious in the Chengannur bypoll, Congress veteran and former defence minister A K Antony on Wednesday said it is wrong to project the election as a three-cornered contest.
"Here, the fight is between the Congress and the CPM. The BJP will be pushed to the third place by a huge margin," the three-time Kerala chief minister told a crowded press conference here as the high-decibel electioneering entered the final phase.
Antony said a victory in Chengannur would multiply the ruling CPM's arrogance. He exuded confidence that the voters of Chengannur would give a shock treatment to the CPM and the Pinarayi Vijayan-led government.
Antony is apparently the first major leader to write off the perception that a tough race was on in Chengannur among the three major fronts. Chengannur is one of the few constituencies where the BJP emerged a strong contender polling over 40,000 votes in the Assembly polls in 2016. The saffron party has been expressing confidence that its candidate P S Sreedharan Pillai would emerge winner this time.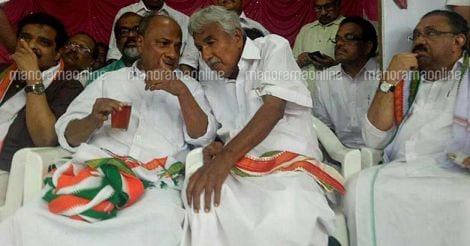 A K Antony and Oommen Chandy at Venmani UDF meet. Photo: R S Gopan
The CPM and the Congress have rebutted the tall claim. They credit the SNDP Yogam backed BDJS for the BJP's performance in 2016. The BDJS is yet to announce its stance this election despite being an ally of the BJP.
CPM leader and finance minister T M Thomas Isaac has also predicted that the BJP's vote share will come down considerably this time.