Thiruvananthapuram: As the 20th edition International Film Festival of Kerala enters its last leg, the delegates seem busy choosing the right movies to watch.
The fifth day of IFFK received good response from delegates as most of the shows were screened houseful.
Nine competition films were screened on Tuesday, including Malayalam movies 'Ottal' and 'Chayam Poosiya Veedu'. However, a large number of delegates chose to watch the World Cinema segment of the day.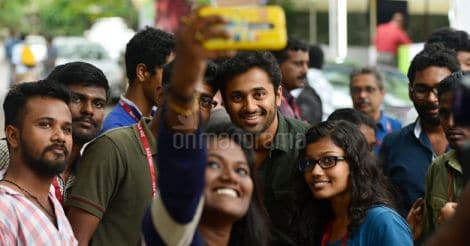 Actor Unnni Mukundan pose for a selfie with delegates at IFFK venue. Photo: Rinku Raj Mattancheriyil
Grimur Hakonarson's 'Rams', Palestinian film 'The Idol', Jacques Audriad's 'Dheepan', Sebastian Schipper's 'Victoria', Santiago Mitre's 'Paulina', Nicolas Saada's 'Tajmahal' and Jafar Panahi's 'Taxi' received good response from the delegates. All the shows were screened houseful despite the rains.
Partying @Tagore
The fiesta witnessed a rare moment on Tuesday when the organisers gave a surprise birthday party to this year's Life Time Achievement award winner Dariush Mehrjui. The Iranian film-maker, who celebrated his 76th birthday, came with his wife Vahideh Mohammadifar and their daughter,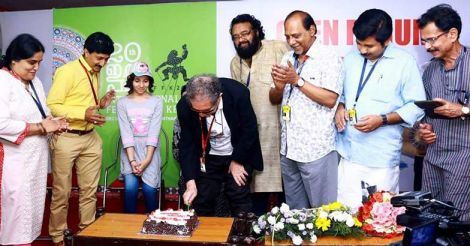 Celebrating the birthday of Director Dariush Mehrjui, who won the Lifestime achievement award of IFFK 2015. Photo: IFFK
After the least expected birthday bash, Mehrjui thanked all the delegates who had assembled at the theatre to watch his films and "taking his photos". He also asked people to watch his other movies, which were to be screened in the festival.
"Instead of taking my photographs, you should watch my movie," he said. Six of his films - 'Ashbah', 'Hamoun', 'Sara', 'Mum's Guest', 'Santouri' and 'Gaav' - feature in this year's IFFK.
Mehrjui will be honoured with Life Time Achievement Award on the closing ceremony.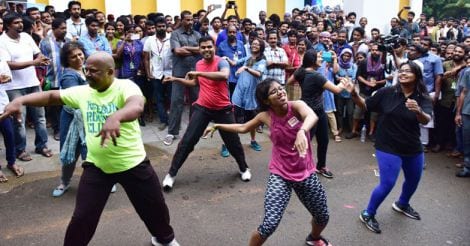 Organizers performing a flash mob. Photo: IFFK
Moments later, the Tagore theatre premises turned a dance floor as the organisers surprised the delegates with a flashmob. Some of the delegates too joined the group dance. The group later performed at Kairali.
"Stop #Intolerance, Censor Board"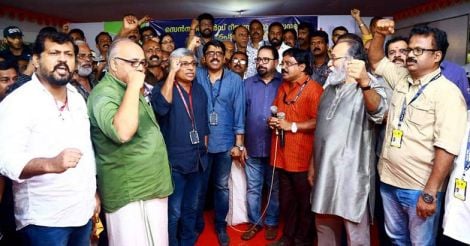 IFFK dignataries staging a protest against the heavy-handed tyranny with of the censor board. Photo: IFFK
Meanwhile, taking cognisance of what it deems a long-standing problem, the Mollywood film fraternity staged a protest in front of the Censor Board's regional office to condemn the board's 'inefficiency' in approving certificates on time. The directors also slammed its stringent 'moral policing' while deciding the content of the movies.
The directors who were at the event said that they need the freedom to showcase their ideas. The protest was inaugurated by FEFKA general secretary B.Unnikrishnan. Representatives of FEFKA, Film Chamber and Producers Association took part in the protest.