New Delhi: The Congress got lesser seats than the BJP though its vote share was nearly two percentage points higher than that garnered by the saffron party in the bitterly fought Karnataka Assembly polls, according to election commission data.
At the end of counting of votes for 219 of the 224 constituencies on Tuesday, the BJP emerged as the single largest party bagging 101 seats and was leading in three with a vote share of 36.2 per cent while the Congress came second with a tally of 78 seats accounting for 38 per cent of the votes.
Polling for R R Nagar seat was deferred on account of alleged electoral malpractices while it was countermanded in Jayanagar seat following the death of the BJP candidate.
Karnataka recorded the highest voter turnout at 72.13 per cent since the 1952 assembly elections.
According to the official data, the Congress' vote share rose marginally to 38 per cent in the current polls from 36.6 per cent in 2013 but had to be satisfied with lesser seats. The ruling party had a strength of 122 MLAs in the outgoing house. Its vote share was 35.13 per cent in 2008.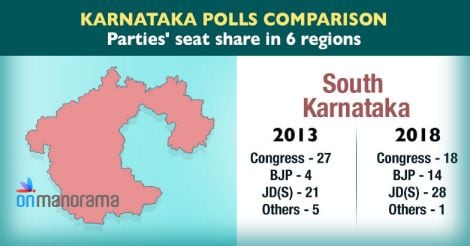 On the other hand, BJP's vote share remained marginally lower than that of Congress but at 36.2 per cent it recorded the highest so far and also managed to bag more seats but will fall short of 9 seats for a comfortable majority in a House of 224. The BJP had 40 seats in the outgoing house.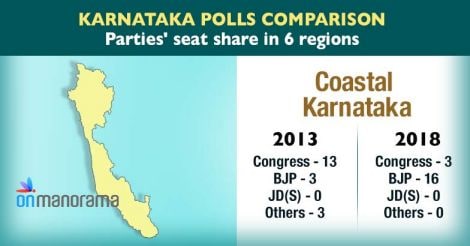 BJP's previous highest in vote share was 33.86 per cent in 2008, when B S Yeddyurappa rode to power by winning 110 seats to usher in the first saffron government in the south. But the party failed to retain power in 2013 as it could manage only 40 seats with its vote share dropping drastically to 19.9 per cent because of two splits in the party.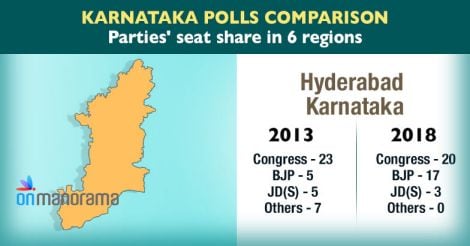 The two splinter parties - B S Yeddyurappa's Karnataka Janata Paksha (KJP) and B Sriramulu's BSR Congress Party (BSRCP) - cut into BJP's share in 2013. KJP and BSRCP had got 9.8 per cent and 2.7 per cent vote share, respectively.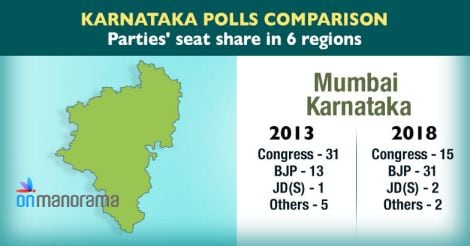 JD(S)' vote share declined to 18.4 per cent this year from 20.2 per cent in 2013 and 19.44 per cent in 2008 and is in the hunt for power after stitching a dramatic post-poll alliance with rival Congress. The party headed by former prime minister H D Deve Gowda got 3 seats less than the 40 it obtained in the previous polls.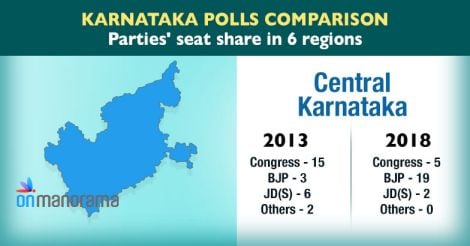 Renowned psephologist Yogendra Yadav said there is "nothing new" in the vote share pattern and the link with the seats won by the rival parties.
"There is nothing new here. This is exactly what happened in 2008 as well. Congress' votes are more or less evenly spread throughout the state.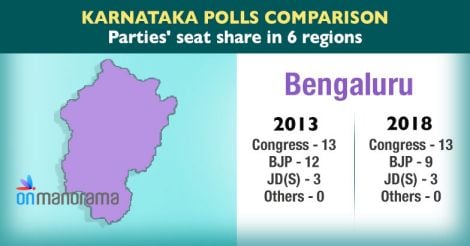 "BJP votes are concentrated in few pockets. Although the average vote share of BJP is lower than the Congress, but where BJP and Congress is in competition, BJP's average is much higher than the Congress," Yadav told PTI.
Yadav also claimed there is no big wave in favour of BJP.
"There is no popular mandate in favour of BJP. But there is a popular mandate against Congress. People have rejected Congress but not selected BJP. That is because both political parties have not raised any of the key issues affecting the people of Karnataka, be it farmers issues, unemployment and wide spread corruption. This has lead to strange fractured verdict."
Yadav also said the vote share of the JD(S) showed its popularity has not gone up as its votes are concentrated in a small pocket of old Mysuru region.