New Delhi: Like the Karnataka election, a number of assembly polls in the past have thrown up fractured mandates. In all these instances, the BJP invariably emerged as the party which either led an alliance or was given the first opportunity by respective governors to form the government.
In states like Goa, Manipur, and Meghalaya, the Congress won the largest number of seats and also staked claim before the respective governors to form the government. However, the BJP managed to secure a majority there with post-poll alliances and their leaders were sworn in as chief ministers.
The Congress cited these precedents to claim that the Karnataka governor should invite it and its post-poll ally JD(S) to form the government and not the BJP, the single largest party.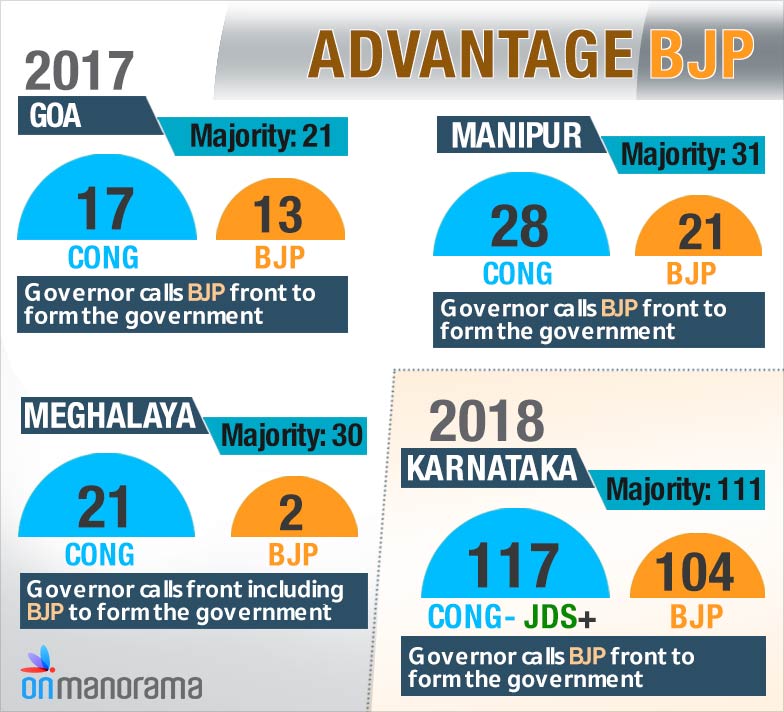 BJP president Amit Shah had said on Wednesday that the mandate in Karnataka was in his party's favour and against the Congress as the latter's tally was reduced from 122 to 78 with outgoing chief minister Siddaramaiah losing from his traditional seat and scraping through from the second one he had contested. Over 16 ministers also lost.
The BJP, which has won 104 of the 222 assembly seats where elections were held, has also staked claim. On paper, the Congress-JD(S) combine has the support of 116 MLAs, with 112 being the majority mark.
In the Manipur poll held last year, the Congress had won 28 seats in the 60-member house and the BJP, 21. The BJP joined hands with regional parties to claim support of majority MLAs and Governor Najma Heptulla invited it to form the government, ignoring the claims of the Congress.
The Goa election, which was held along with Manipur's, also threw up a hung assembly with the Congress winning 17 of the total 40 seats while the BJP bagged 13. Here again the saffron party beat its rival in cobbling up a majority with post-poll allies and its leader Manohar Parrikar was sworn in by governor Mridula Sinha as the chief minister.
In the Meghalaya polls held in February this year, the Congress emerged as the largest party by winning 21 of the 59 seats where election was held. Its regional rival National People's Party won 19 while the BJP got two seats. Both joined hands and won over other regional parties and independents to secure a majority.
The Congress also staked claim before governor Ganga Prasad to form government but he invited the BJP alliance led by Conrad Sangma after they met him and claimed a majority.