When a question was raised to an industrialist from Kerala in Delhi on why he is not choosing Kerala, his home state, for investment, the man looked incredulous. Kerala? For Industry? This were his counter questions with a mockingly shocking expression. He followed it with an equally mockingly soothing line–"Kerala is good for a holiday. May be I would consider investing in a resort myself."
This in fact is the average reaction of Keralites who are successful elsewhere in the world towards investment back home. They don't agree if someone points out that there are problems in other parts of the world too. Like in many Indian states, power shortage, extortion of money by politicians in terms of donations, corruption, delay in getting the clearances etc. But on top of Kerala businessmen's woes a new one has been added — sudden reversal of government policy. Recent declaration by the government on banning bars is an example.
Those investors who fell for Kerala Tourism's call to come and invest in 'God's Won Country' are the hapless victims. It's estimated that close to Rs800 crore is stuck in hotel and resort investments, as investors are freezing the projects. They are running from pillar to post and no door seems to open before them. Loss of employment in the hospitality sector is estimated more than a lakh. Hotels and convention centres are deluged with cancellations of conferences and meetings. This when the state is earning close to Rs23,000 crore per annum (more than $3.5 billion) from tourist arrivals of more than 10 million.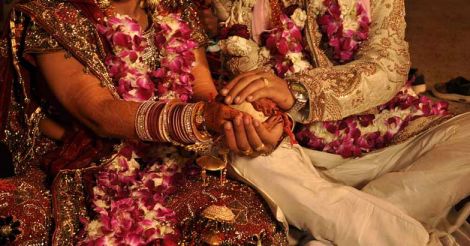 Money flows like water during weddings in Kerala. Photo: Wikipedia
But then there are other 'industries' where multi-crore 'investment' takes place every year. They are namely-weddings, births, funerals and off course house construction. How these qualify as industry is hilarious.
We know what happens in big fat weddings. Malayalis lift the shutter of the reservoir of money they have stored up for several years, during a wedding. Money flows like water from one of Kerala's famed hydro-electric power dams. It could be black money, stored in lockers or kept with binami investors. But it comes out.
Bridal make up? Beautician is flown in from Mumbai - a day's make up could be anything between Rs25000 to Rs2 lakh. An a/c hall could have a rent anywhere between Rs50000 to Rs5 lakh. Bride would be literally covered with gold jewellery that cost Rs50 lakh and above. Then there is reception pre and post wedding. If all these puts money in so many pockets, ain't that industry?
Even giving birth is expensive these days. A delivery that could cost a mere Rs500 in a Government Hospital or Rs2,000 in a small private hospital, could cost Rs50,000 and above in a five star super speciality hospital. Kerala has such hospitals in all major cities and more are in the offing. In fact, rich NRKs find hospital building a profitable investment activity.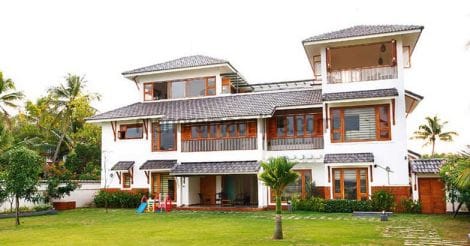 No state in India has the kind of houses that are built in Kerala with all its splendour.
House construction is probably the biggest of all. No state in India has the kind of houses in size and splendour like the ones built everywhere in Kerala. It could be Italian marble, remote operated gates, intelligent lighting... An average house in Kerala now costs Rs1 crore to build, including land costs. Yet palatial mansions are being built everywhere.
Major architects in the state have only house projects to work with. Many talented architects move out to neighbouring states in search of larger projects.
Funeral? come to think of this- a casket, not coffin, Chinese built cost Rs50,000. Event managers take over funerals. Live telecast of of funeral for the benefit of relatives abroad has become common in mid-Travancore families. Casket is paraded to the cemetery in a mobile vehicle with announcement of eulogies of the deceased in accompaniment. Even a minister's attendance is arranged for a fee.
But is there anything despicable in all these? Nope. These are industries -Kerala style. They form livelihood of thousands. Rest of the business, like the real manufacturing industry can be pursued outside the state.
Too bad? Can't help. Just the way we are.
Last post — A funeral home. It could be a new trend in the near future. Judging by malayali tastes, a funeral home, like in the west, is not far away.