Indians take pride in that they discovered zero. If you happen to visit museums of other civilisations, you find that they also claim to have discovered many a knowledge or technology. It's as if 'we were there first' contest exists between countries of east and west. Indian jingoists have many such claims—the world's first plane Pushpak Viman used by Ravan in Ramayana mythology. Rockets? Yes, Tipu Sultan had battalion of famed Mysorean rocketeers. Atom Bombs? Yep! What else do you think of Brahmastra, the ultimate weapon mentioned in epic Mahabharatha?
Indian pride has just taken a new high, with the arrival of MoM in Mars, just 48 hours after the arrival of the US' Maven. It proved to the world that we are capable of such technologies at a fraction of the cost of making a Hollywood film on planetary voyage. This has given credibility to Prime Minister Narendra Modi's new pitch to the world- Make in India. Once you come and make in India, soon everything will be made in India.
India has Three Ds to offer says Modi — Democracy, Demand & Demographic dividend. Democracy we all enjoy, Demand is that which sustains our growth in spite of world recessions. We have enough demand domestically, coming from 1.2 billion people, so much that we don't need to depend on exports to sustain economic growth, like the Chinese. With 65 per cent of the population under the age 35, we have enough hands to productive work. This in turn gives us the demographic dividend which essentially means more hands working in every household bringing in wages, there by increasing the per capita income and economic growth. Western countries having a large percentage of population well above the productive age of 60, do not have this demographic dividend.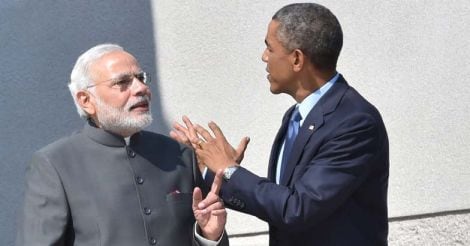 US President Barack Obama and Prime Minister Narendra Modi at the Martin Luther King Jr. Memorial in Washington. Photo: PTI
The 'Make in India' pitch takes in to consideration all these facts, and hence in speeches like the one delivered by Modi in Madison Square Garden, looks very credible. But it takes a lot more than eloquence to translate 'Make in India' a reality. Large reforms in labour laws, simplification of procedures to start or end a business, replacing red tape with red carpet are only some of them.
If 'Make in India' ultimately becomes a reality, will Kerala be part of it? Or are we destined to 'miss this bus' as we missed many such buses in the past including the recent IT bus? Manufacturing industry is one that has eluded Kerala. Now with the shortage of labour, it would be next to impossible to regain lost ground in manufacturing. In the Kinfra Apparel Park, in Menamkulam, Trivandrum, there is severe shortage of female workers. Even after giving the minimum wage set by the Kerala labour department of Rs 7,500 per month, hands are few. Apparel park depends on labour imported from Bengal and other poorer states to woman their factories.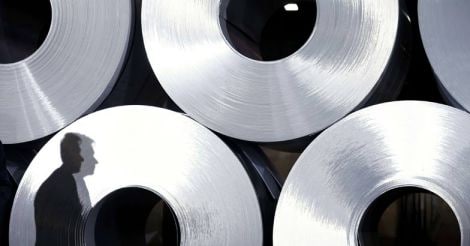 Keralites' lack of interest towards industrial and labour works will cast a shadow over the possibility of the state getting any projects under the 'Make In India' campaign. Representative Image (Reuters)
Kerala is also not getting enough labourers for MNREGA work. Very few are ready to work under the hot sun, for a paltry sum of 120 per day. The strange thing about Kerala is that the very person who refuses to do manual labour here, has no problem in doing the same in the Gulf, under harsher conditions. As long a Gulf countries remain a labour colony for Kerala youth, domestic industrial sector has no chance to grow.
The militant loading-unloading unions pose a problem too. The moment ground levelling, or compound wall building starts for setting up a firm, the loading unions pose trouble with their 'nokku kooli'. It crudely translates as wages for looking at work, not doing it. The unions demand wages for all the work done by machines like earth movers and hydraulic trucks.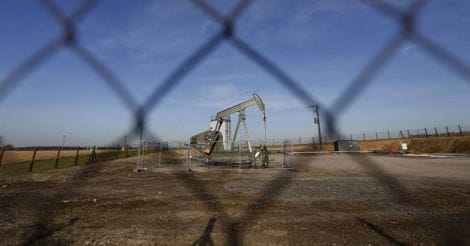 Factors like trade unions and their 'nokku kooli' could also make the project slip off. Representative Image (Reuters)
Sure sign that Kerala is set to miss this bus of 'Make in India' too. If it ever happens!
Last Post — If Kerala youth prefers white-collar jobs like those in tourism, then that is also in trouble. The state government has just introduced prohibition, through banning bars. Sunday prohibition is another blow to MICE tourism. Who will come for a conference or meeting if a drink on a sultry day is hard to come by?