In the light of the Karnataka elections and the subsequent political turmoil which saw the resignation of Yeddyurappa, the 2-day-old chief minister, before proving his majority on the floor of the house, Onmanorama puts forth a list of chief ministers who were at the helm for very short durations...
1. Harish Rawat's Congress government was ousted by the Centre on March 27, 2016 after a few of the ruling party MLAs rebelled and sided with the BJP. However, the imposition of the president's rule was overturned by the Uttarakhand High Court on April 21 and Rawat was restored as the chief minister. However, the very next day, the Supreme Court stayed the High Court verdict setting aside president's rule in the state till April 27. President's rule follows and Rawat is back in the saddle in May 11 and goes on to complete the term of the Assembly in March 2017.
2. Jagdambika Pal, the leader of the 22-member Loktantrik Congress, assumed the post of CM, late night, when the BJP government of Kalyan Singh was dismissed by Governor Romesh Bhandari; however, Pal's coalition government, propped up by the BSP, SP and the Congress, had to quit as Singh was restored as CM after a court order.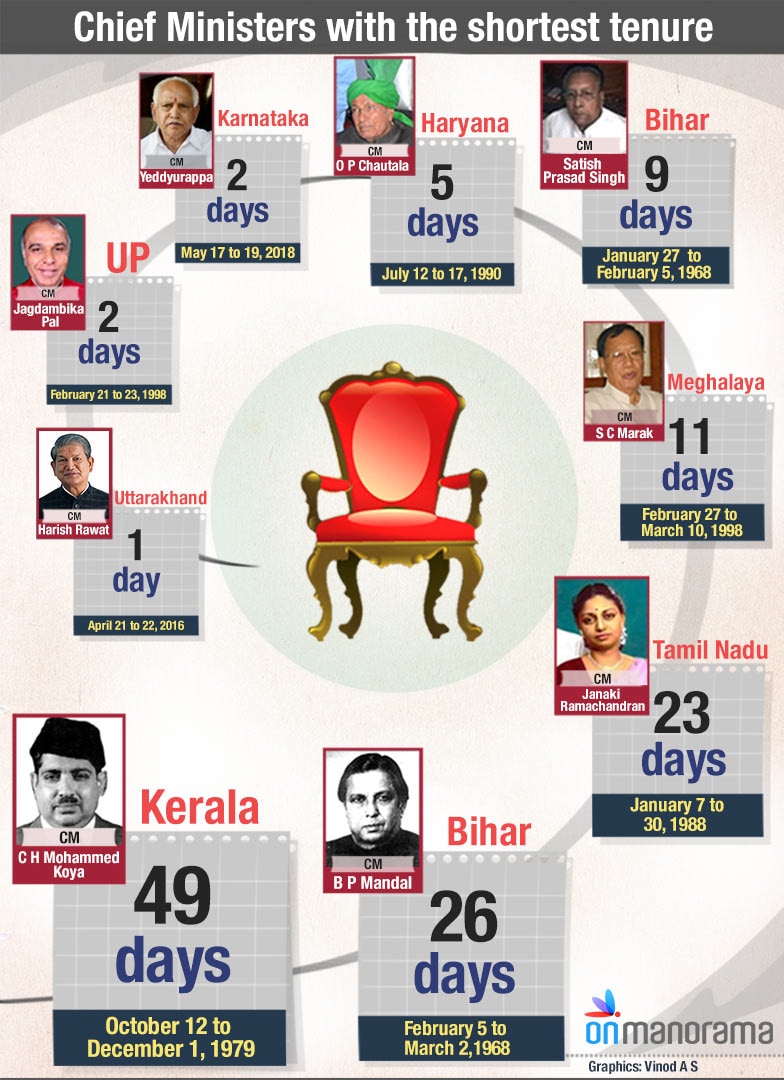 3. OP Chautala retrieved the CM seat on July 12, 1990 after Banarsi Das Gupta, who had succeeded Chautala himself in May 1989, remained only for two-and-a-half months. But Chautala was forced to quit by his own party, Janata Dal. Hukum Singh succeeds him until he was replaced by Chautala eight months later in March 1991.
Chautala has two more short tenures:
• 15 days: March 22, 1991 to April 6, 1991
(Chautala is ousted in another party rebellion after two weeks in power. President's rule follows and Chautala returns to power only 8 years later.)
• 5 months: from 2 December to 22 May 1989.
In his first stint as CM, Chautala had to quit his post after 5 months amid political violence in the Mayhem Assembly constituency where he was contesting a bypoll. He had succeeed his father Devi Lal as CM, when the latter became the Deputy PM.
4. Satish Prasad Singh was selected as a stop-gap CM and vacated the seat for his senior Sanjukta Socialist Party colleague and MP, B P Mandal. Singh became CM as Mahamaya Prasad Sinha, the state's first non-Congress chief minister, fell after a revolt in 1968. Singh once claimed that as speaker tampered the records, his term is counted as lasting on February one, though Mandal succeeded him four days later.
5. Congress leader SC Marak could remain CM for just 12 days after swearing in post the election, as he had to resign so that United Parliamentary Forum leader BB Lyngdoh become next CM. However, Lyngdoh himself could remain in the chair just for 30 days after becoming CM on March 10, 1998.
6. Janaki Ramachandran's government was dissolved by central government for law and order failure amid the political instability following the death of her husband MGR in December, 1987 .
7. B P Mandal succeeded Satish Prasad Singh who was on the CM seat for a week. However, he himself had to leave after a month as Congress regained power. Between 1978 and 1980, he chaired the Second Backward Classes Commission, famous as the Mandal Commission.
8. The brief tenure of the IUML CM C H Mohd Koya ended as President's rule was imposed in Kerala.