Malappuram: Candidates of the two leading political combinations in Kerala have submitted nominations for the Vengara by-election.
K.N.A. Khader, candidate of the opposition United Democratic Alliance (UDF) partner Indian Union Muslim League (IUML), submitted his papers at the office of the deputy electoral officer in Vengara. Former MLA from the constituency, P.K. Kunhalikutty, Congress party's district president V.V. Prakash, IUML district president Panakkad Sadiq Ali Shihab Thangal and KPCC secretary K.P. Abdul Majeed accompanied Khader.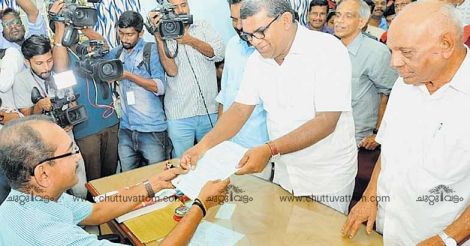 P.P. Basheer files his nomination
The ruling Left and Democratic Front's (LDF) candidate and CPM leader P.P. Basheer filed his nomination with the electoral officer at the district collectorate. CPI district secretary P.P. Suneer, CPM leader Paloli Muhammad Kutty, E.N. Mohandas and K.P. Ismail accompanied him.
SDPI candidate K.C. Naseer also submitted papers while K.T. Alavikutty filed as his dummy.
The by-poll has been caused by Kunhalikutty's election to the Lok Sabha. He was chosen for the Lok Sabha seat after incumbent E. Ahamed passed away.
Read: Latest Vengara By-election news | How Muslim league chose its candidate through a SWOT analysis