Chengannur: Campaigning for the May 28 state assembly by-election in Chengannur has reached a crucial stage, as the Congress and CPM leaders clashed over claims as to who is a better defender of minority interests against the threat posed by BJP. The posturing is indeed aimed to garner maximum votes from minorities.
The Congress-led UDF, the LDF that the CPM leads, and the BJP have more or less estimated the share of votes each can get from the majority community. Muslim and Christian votes, however, are anybody's guess. The LDF and the UDF realise that victory is possible only if a maximum of minority votes are ensured.
Both the fronts, hence, have raised the pitch of attacks against the BJP. The UDF candidate even faced allegations questioning his secularism credentials.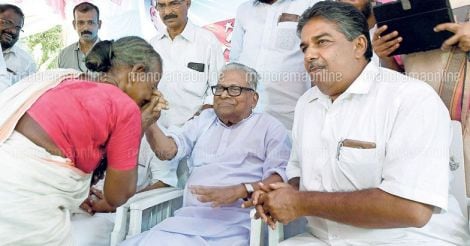 VS Achuthananadan with Saji Cherian
The arrival of K M Mani has, meanwhile, invigorated the UDF.
The verbal battle was launched as Congress veteran A K Antony commented that the CPM is boasting it will fight the BJP, when it cannot even save its deposit in other states. He was hinting at the CPM's fate in several states, including Karnataka. He also tried to paint a picture of Narendra Modi-Pinarayi friendship, alleging that the chief minister is jubilant when the prime minister and his ministers extend a compliment.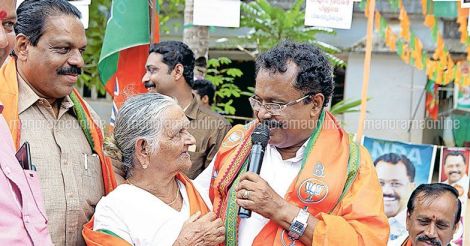 P S Sreedharan Pillai in the campaign trail
Sensing the danger, Pinarayi mounted a vigorous attack against Antony at public meetings in Chengannur. "Why should I reject if the BJP says the state government is good? Congress pretends to be a big party, but had to sit behind Kumaraswami," the CM mocked. Pinarayi also repeated at CPM meetings his party's old claim that Congress is not capable of facing the BJP. "Wasn't it the same Antony who said some are Congressmen during the day and BJP at night," he asked.
As the campaign enters the final phase, the Congress feels the CPM is scared of the possibility that BJP's vote share will shrink. The CPM hopes BJP votes will not sink below 30,000 under any situation. It is in this context that CPM state secretary Kodiyeri Balakrishnan trained his guns on UDF's Vijayakumar and the Ayyappa Seva Sangham of which he is an office-bearer. The UDF hit back by lodging a complaint with the Election Commission. Former chief minister Oommen Chandy alleged that the CPM is going to extremes in its bid to polarise the voters on communal lines.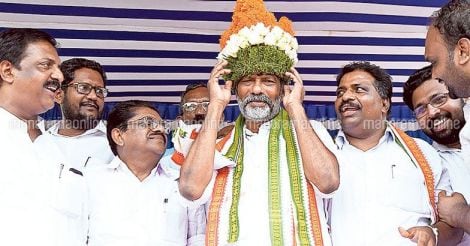 D Vijayakumar
As both fronts draw their last weapons for the swinging minority votes, the BJP concludes it is the threat posed by it that has forced its rivals to raise the intensity of the poll battle.