Opposition leader V S Achuthanandan attended the screening of Valiya Chirakulla Pakshikal (Birds with Large Wings), a film on the lives of 'endosulfan' victims, at the IFFK- day four on Monday.
The Opposition leader's intervention in the endosufan issue in Kasargod was highlighted in the film. The film, written and directed by Dr Biju, is based on the real-life story of a village in Kasargod.
The health issues faced by the people due to abuse of the pesticide in cashew plantations is highlighted in the film.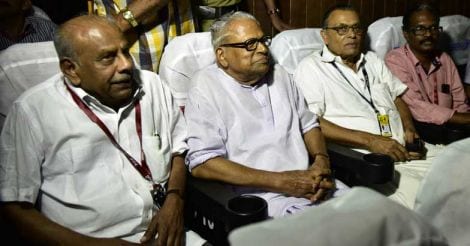 VS watching the movie along with the makers
At the Kairali theatre, everyone was excited to see Opposition Leader V.S. Achuthanandan, who came to watch 'Valiya Chirakulla Pakshikal'.