Bangalore: A careful look at the Karnataka election results reveals the divided nature of the mandate the voters delivered on May 12. The crucial battle for holding political office in Karnataka involved desperate attempts from all party leaders to woo voters — if prime minister Narendra Modi-led BJP did everything possible to return to power in the only southern state they ruled, Rahul Gandhi hoped for the incumbent government to revive the lost charm of the Congress in the country.
However, in a result that has perplexed both expert poll analysts and voters alike, the party that has emerged as the real winner is Janata Dal (Secular), led by former prime minister H D Deve Gowda. For those keenly following the post-poll developments in Karnataka, the latest conspiracy coups might seem more than amusing. For those who have not, here is what happened in a nut shell: Despite early counting trends indicating an easy majority for BJP, the B S Yeddyurappa-led party managed to win only 104 seats, falling short of the magic number 113. While Congress sealed victory in 78 constituencies, JD(S) along with its national ally BSP took 38. Nevertheless, in an unprecedented move (even before three-fourth of the results were declared), Siddaramaiah-led Congress announced their full support to JD(S) in forming the government.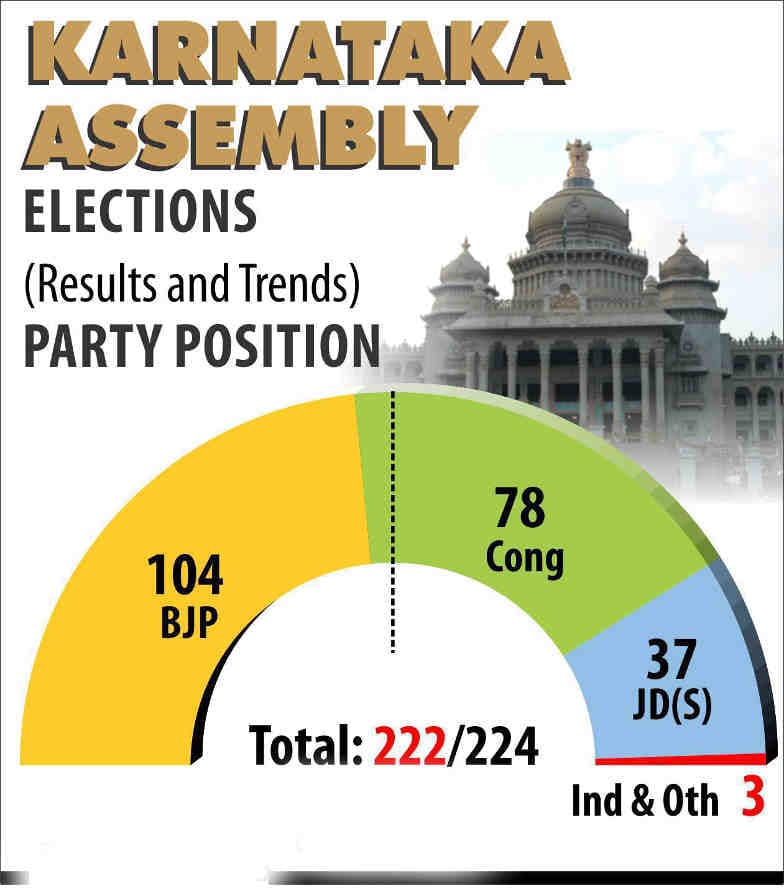 All is fair in love, war & politics?
The Congress-JD(S) alliance together have 116 seats, which is three more than the seats required for simple majority. The alliance has also agreed on electing H D Kumarswamy as Karnataka's next chief minister. In fact, by late evening on Tuesday, rare visuals of Kumaraswamy and Siddaramaiah discussing further strategies at Raj Bhavan started making rounds on regional channels in Karnataka.
It was not long ago that the two leaders made scathing personal attacks on each other during the election campaign. While Siddaramaiah declared Kumaraswamy can never be the chief minister of Karnataka, the latter warned the then CM to mind his language.
However, minutes after the trends were telecast on TV channels, the two leaders patched up and posed for cameras together.
Unholy coalition?
A few poll pundits have called the Congress-JD(S) alliance an unholy nexus. Mostly because very few people in Karnataka saw it coming. Ever since Rahul Gandhi called JD(S) the B-team of BJP during his election campaigning, many expected a BJP-JD(S) alliance that could let bygones be bygones.
When B S Yeddyurappa and Kumaraswamy formed a coalition in 2007, it was not a smooth ride for the BJP with JD(S) backtracking on its word regarding power share.
However, the present situation is also not very rosy for Yeddyurapppa, who will have to bank on BJP's master strategist Amit Shah to pull a miracle to take the reins of the state.
Operation Kamal
Does this mean it's time for another 'Operation Kamal' in Karnataka? If rumours are to be believed, it is already underway with BJP trying to coax half a dozen Lingayat MLAs from both Congress and JD(S) to liaise with them.
In 2008, when the BJP was three seats short of majority, the Reddy brothers successfully wooed the MLAs in Congress by offering them money and ministerial berths. This mission was later known as Operation Kamal in Karnataka's political history.
Kumaraswamy after meeting governor Vajubhai Vala on Wednesday said, "We heard that they are trying to do Operation Kamal now also. Let them try, they will not succeed".
Last 'resort'
'Resort raajakiya' is a familiar word in Karnataka politics. The state had seen this on several occasions in the past wherein elected members of a party are huddled up in plush resorts to protect them from poaching by other parties.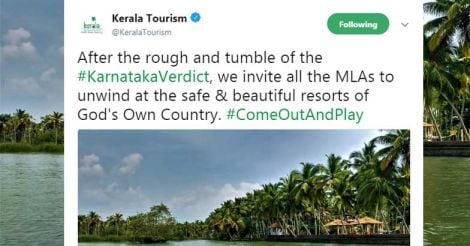 Late Tuesday evening, when gossip about BJP's horse trading efforts started doing the rounds, Twitter was abuzz with tweets mocking how the real winner in Karnataka would be of resort owners.
However, the best marketing move on Twitter came from Kerala Tourism which sent an open invitation to all the newly-elected legislators of Karnataka "to unwind at the safe and beautiful resorts of God's Own Country".
Speculations are also rife about Congress MLAs already booking rooms at the Eagleton resort on the outskirts of Bengaluru. With the latest developments following the broken mandate adding up to the curiosity of who will rule the state, it is a situation of Karnataka, 'aur karo nataka' as of now.