Chengannur: As finance minister T M Thomas Isaac attacked the previous Congress MLAs who represented Chengannur Assembly constituency after releasing the Left Democratic Front's manifesto for the May 28 bypoll, one person on the dais was apparently not very happy. Sobhana George couldn't agree to the charges against Congress MLAs even when she has to share the dais with the CPM leaders for an election campaign meeting, since she too had represented the constituency thrice on a Congress ticket.
Sobhana extending support to CPM's Saji Cherian in the bypoll didn't surprise political observers in Kerala since she had long ago made her dissent with the party public. After winning the assembly elections from the constituency for three consecutive terms from 1991 to 2005, George contested the 2016 assembly polls as an independent candidate, though she could score only 3,966 votes.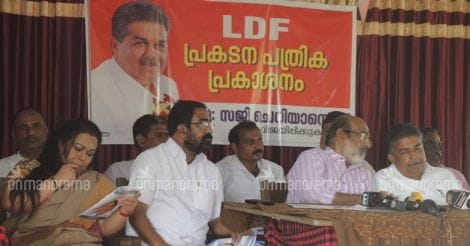 Is Sobhana and the nearly 4,000 she could gather on her own in 2016 a factor in the bypoll that is politically crucial for all the three major fronts? The CPM, which happily accepted her support and offered her seat in its campaign rallies, believes that George still wields an influence over a section of voters in Chengannur. However, the Congress is in no mood to accept the claim.
Asked how much votes does she have in her kitty, Sobhana, who calls herself the daughter of Chengannur, put up a humble face and answered that she was not ready to make any claim over the votes she can swing in favour of the LDF. However, she said that the 3,966 votes she polled in 2016 does not mean that only as many people supported her. "I was saddened to see the plight of the constituency for years when it was time for the polls in 2016," Sobhana said in a clear attack on her successor and young Congress leader P C Vishnunath who represented the constituency twice. "There was no development at all, and I wanted to ensure that CPM's K K Ramachandran Nair wins for the betterment of the constituency and I succeeded in it," Sobhana said. She said it was easy for her to decide to support the CPM this time, because she believed that the development projects initiated by Nair could be completed only if the CPM won.
Political observers view CPM's move to accept Sobhana's support as an attempt to woo votes from the Orthodox church to which she belongs.
The CPM claims that Sobhana has an appeal beyond her community and bring considerable number of votes to the Left fold. "Her goodwill among a considerable section of the people of Chengannur will help us," a local CPM leader told Onmanorama.
However, the Congress rubbished all such claims. "It's true that Sobhana coud poll nearly 4,000 votes last time. But by aligning with her, Cherian is going to lose 5,000 votes," a local Congress leader told Onmanorama.
Local people in Chengannur are not ready to write off Sobhana's influence. "She still has influence over several people across religious lines," said a driver at the Chengannur railway station. He also recollected the development projects initiated by her during her tenures as an MLA.
Interestingly, the bypoll is also perceived as a fight between Sobhana and Congress candidate D Vijayakumar. In 1991 Sobhana was fielded by the Congress in Chengannur for the first time allegedly sidelining Vijayakumar. He had already started campaigning in the constituency when the party picked Sobhana at the last minute.
Asked about the old rivalry, Sobhana took a dig at Vijayakumar. "If he was so talented in 1991, why was he ignored in all the successive polls? Why did he have to wait till 2018 for a bypoll?," she asked.