Thrissur: The festival quotient of Thrissur, known as the cultural capital of Kerala, will skyrocket in the coming five days as the temple town hosts the 58th edition of the Kerala School Kalolsavam.
Curtains will officially go up on Asia's biggest art jamboree at 10 am on Saturday when speaker P Sreeramakrishnan inaugurates it. It was informed that chief minister Pinarayi Vijayan would not be able to inaugurate the function as he has to attend Kollam district conference.
Ahead of it, 14 traditional art forms will be performed under 12 trees on the premises of the main venue, Thekkinkadu maidanam. As many as 1,000 girls will perform a Thiruvathira in front of the main venue.
The festival would revive the spirit of Pooram, with sound instruments stirring memories of Ilanjithara melam and dance items fetching images of Kudamattam, while musical items would revive the joy of Panchavadyam.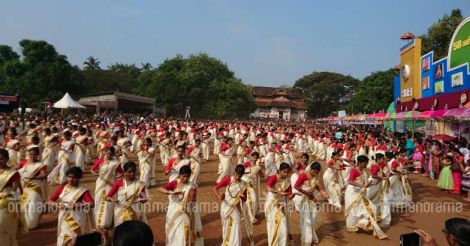 This is the ninth time Thrissur is hosting the festival, with the first being a low-profile event in 1962 amid the Indo-China war. The festival will conclude on Wednesday (Jan 10) after hosting 234 events in 24 venues. As many as 8,354 students will take part in the competitions. However, the number of contestants may go above 12,000 if those who are likely to participate through appeals are counted.
This is the first Kalolsavam to be held as per the revised manual since 2008.
A green protocol, aiming at zero-pollution, will be in effect on the festival venues.
Students are lodged in 21 schools around the city. Culinary expert Pazhayidam Mohanan Namboodiri is tasked with preparation of food. The expenses of the festival is estimated to cross Rs 1.5 crore.
Read: Latest Kalolsavam news | Subcollector 'not' on the stage for state school youth festival