Kerala is known to welcome everything new to it, though with an eye of suspicion. Being a land known for its political literacy, there has never been a dearth of protests in the State. In 2012, when the first edition of Kochi-Muziris Biennale was launched, the organisers had to face the irk of many including a section of the artist-community and art-lovers. The critics' claim was that the Biennale made art succumb to the State machinery and corporates. Now with just a few days remaining to the culmination of the second edition of the Biennale, all such criticisms seem to have become a thing of the past. Here some of the top names in the field of art and literature in Kerala share with Onmanorama their experience of visiting KMB'14.
"Criticism from misunderstanding" K. Satchidanandan, poet and critic
Though Keralites have a very powerful culture of visual arts, it is mainly seen in the field of performing arts. Contemporary painting and sculpturing are yet to become a major part of Malayali's aesthetics. Hence, any venture to introduce contemporary art to Kerala is relevant and a necessity.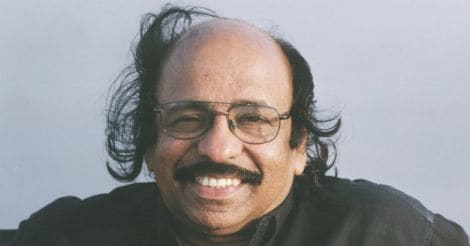 We have been celebrating an international film festival and a theatre festival for years now but this extravaganza of visual art was started only recently. Kochi-Muziris Biennale plays a major role in introducing the changing trends in art forms and ideas to Malayalis and non-Malayalis alike.
The very meaning of art has changed a lot today. With this exhibition, we can feel a change from the older notions of immobile and homogeneous nature of art into a moving and plural form of art. This event helps us enjoy the latest works by the artists in India and overseas and renew our aesthetic sense according to changing times. I hope this event will be supported by Kerala Government and art lovers in future also. All the objections and criticisms against it arise from some misunderstanding only, I believe.
"Highly artistic and political" Civic Chandran, writer and activist
It is the International Film Festival of Kerala that introduced contemporary films to the people of the State. And an international theatre festival presented the latest trends in theatre to us. Similarly, the Biennale shows us what is happening in the field of art across the world. It breaks the traditional views of art and sculpturing. It actually opens up a new sky of contemporary art to us.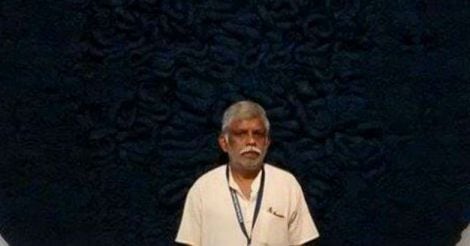 Civic Chandran at Aspinwall House, main venue of KMB'14
The space where it happens is also very important as Kochi is at the same time an ancient city and a trade city of Kerala. The event makes use of the space in several sense. The works displayed in the show are often radical. I remember the works which showed all the banned flags around the world and the miseries of the killed farmers of Maharashtra. It's at the same time highly artistic and political. I think in many fields, including politics and visual culture, we are not contemporary. In that sense, this event creates a moment.
"Take your kids there" Benyamin, Novelist
Biennale is not a mere painting exhibition. It's an experience. Each work displayed here is a culmination of knowledge, dreams, fiction, history, art and hard work. Here we see the human imagination trying to express itself in all forms and the artist joining hands with science and technology for its realisation.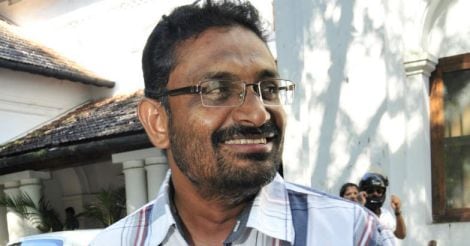 Benyamin. File photo: Manorama
This helps us know the new world and our history. It changes our notion of the universe. It brings to our memory, war, colonisation and exile and makes us think about the challenges the earth is facing due to human intervention. One should spare a day to watch Biennale at least for one's children. Let them know the new world and times. Unfortunately our schools now-a-days prefer to take children to watch shopping malls instead of such shows.
"Strong in content" Zacharia, writer
I was proud to see the first edition of the Biennale as a Malayali, but this one is so strong artistically, aesthetically and in content, that it has a place of pride in India. It will bring a change in the national art scene. It connects, and throws challenges and raises questions in our socio-cultural context. It makes us rethink our ideologies, fundamentalism in religion and class differences.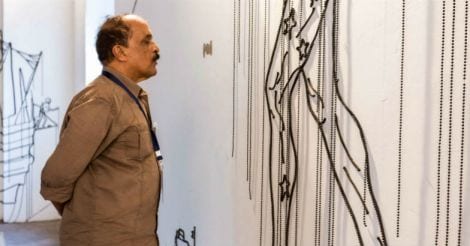 Zacharia at Aspinwall House, main venue of KMB'14
"It makes me proud of my Malayali identity" Sethu, novelsit
I remember going to the Triennale in Delhi as a child. Despite all the facilities, the people in the national capital could not take it forward. It is good to see that art survives, and the Biennale has stunned its critics into silence.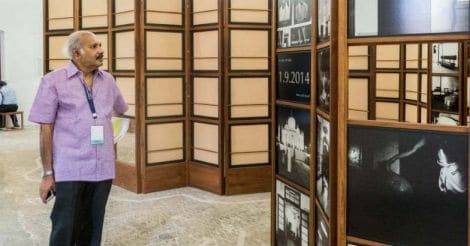 Sethu at Aspinwall House, main venue of KMB'14
It has rallied the support not only of the artistic community, but also of the local people and the government. As a Malayali writer, I am proud that it could be hosted in this corner of the country.