Kochi: Walk through the gates of Aspinwall House to enter a world of art in its different forms with various levels of sophistication and interpretation. Among them, is an exhibition of colours as perceived and brought to life by the little deft hands of Clint.
The Kochi-Muziris Biennale 2014 has dedicated a space to child prodigy Edmund Thomas Clint and his artworks among the world-renowned installations. Some of the child artist's works and souvenirs are also on sale at the main venue of the Kochi-Muziris Biennale '14.
When kidney disease snatched Clint away from the land of mortals in 1983, he had left behind a treasure trove of nearly 25,000 paintings. Clint was all of six years and 11 months then!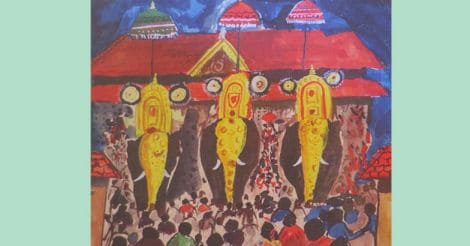 One of Clint's paintings
Most of these paintings were drawn on the backside of his accountant father's office papers. Three decades since, these artworks are in poor condition and efforts are on to preserve them.
At a time when most organisations and groups cry out against government's apathy, Clint's father M. T. Joseph has a different story to recount.
"I am both surprised and elated that government has come forward to help preserve my son's paintings. I am a retired central government officer leading a 'hand-to-mouth' life. So it would be impossible from my part to even think about digitising these paintings, which is very expensive," he said.
The official IT consultant and solution provider of Kerala Tourism, Invis Multimedia, has taken up the work of digital archiving Clint's paintings.
"Our aim is to upload his paintings online – it would help us reach more people and also preserve them. We are also trying to reprint the paintings on acid-free paper that has a long life-span," said Hari M, MD of Invis Multimedia.
But the acid-free paper is expensive and so is reprinting the artworks on them. We have been trying to raise funds for the project and that's when Kochi-Muziris Biennale approached us urging us to hold an exhibition of the paintings, Hari added.
About 60 of Clint's paintings are on display at Cosmopolitan Cult in Matttancherry as part of the Children's Biennale. The organisers themselves bore the expenses of getting the paintings reprinted from Mumbai, Joseph explained.
In addition to the exhibition, they were also given a space to promote Clint's art works at the Aspinwall House.
Here, you will find images of little Clint busily painting on a tea cup, while mighty elephants from our temple festivals stand proudly on T-shirts. Such souvenirs along with reprints of artworks are available for purchase at this space.
The stall also has a small screen playing out the video by Kerala Tourism that showcases his artworks with a short narration of the child artist's life.
However, what attracts the intrigued visitors most is Ammu Nair's book chronicling the life of Clint, A Brief Hour of Beauty. The book priced at Rs295 has sold hundreds of copies.
The earnings from the stall go to 'Clint Memorabilia', a noble initiative started by Invis Multimedia to raise funds for preserving his artworks. While the response has not been overwhelming, the organisers are happy that Biennale has given them a platform to reach out to more people.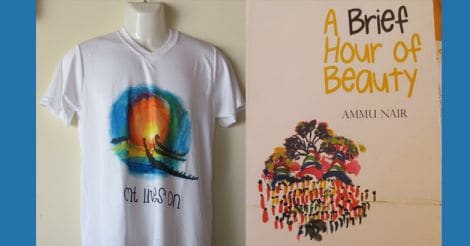 A T-shirt with Clint's painting (L) and Ammu Nair's book chronicling the life of the child prodigy, A Brief Hour of Beauty.
And there is a lot to know about little Clint's life as his proud father recount tales of his meticulous and hard-working son.
"Me and my wife never had to run behind our son trying to make him eat. He used to have his meals on his own and then sit down to paint. Unlike other kids of his age, he did not have any craving for chocolates and such. He just loved painting."
Clint's attention to detail and memory power are evident from his paintings. Even great artist like Namboodiri has said it's astounding that a child can draw such realistic pictures, his father added.
"Though he only lived for a short time with us, Clint has given us colourful memories to last a lifetime," his father reminisced. "He is still very much with us."
And efforts like these go a long way in preserving the memory of this little yet great genius for generations to come.