Thiruvananthapuram: Sudarshan Shetty, one of the most innovative contemporary artists in India, was on Wednesday named the curator of the third edition of the Kochi Muziris Biennale (KMB) 2016.
"KMB has contributed to Kerala's culture, tourism and hospitality industries and renewed India's cultural position in the world. We will extend full support to the programme in the coming years," said state Culture Minister K.C. Joseph while announcing Shetty's name.
Biennale founders Bose Krishnamachari and Riyas Komu were present on the occasion.
Shetty, 54, takes over the mantle from Jitish Kallat.
Mumbai-based Shetty's installations and multi-media works have been displayed across the US and Europe. His work also featured in the first KMB and he is the only Indian artist commissioned to create a public sculpture in Japan.
"Through just two biennales, the KMB has acquired the role of one of the most important exhibitions globally," said Shetty, who was present with his wife and daughter.
"It is a privilege to be named curator," he said.
KMB 14 was a 108-day event, spread across eight venues, featuring 52 international and 42 Indian artists, and received nearly five lakh visitors.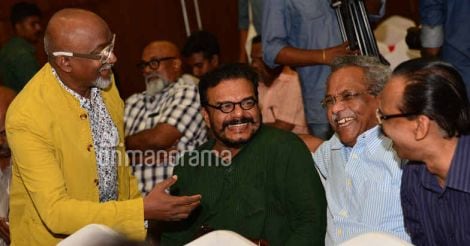 Kochi Biennale Foundation president Bose Krishnamachari shares some light moments with Ajayakumar, Shaji N. Karun and B.D. Dathan during the event held to announce the curator of the third edition of the Kochi-Muziris Biennale in Thiruvananthapuram on Wednesday. Photo: Rinkuraj Mattancheriyil
Thiruvananthapuram Lok Sabha member Shashi Tharoor, who was present at the event, said: "It is good to have a curator who has worked in various mediums and so can understand in various ways how art can capture aspects of life."
"We have overcome some of the parochial mentalities in recognising the role of the KMB and people are coming from all over the country and the world to see it. So, we should strongly invest in it," Tharoor added.
The new curator was selected after a month-long deliberation by a panel comprising artists Amar Kanwar, Atul Dodiya, Bharti Kher, Jyoti Basu, and patrons Kiran Nadar, Ranjit Hoskote, Shireen Gandhi, V. Sunil, and also Kochi Biennale Foundation president Krishnamachari and secretary Komu. (With inputs from agencies)