Kochi: The Kochi-Muziris Biennale (KMB) has created a sustainable platform for international dialogue and enrichment of contemporary art, Kerala Governor Justice (retd) P Sathasivam said on Saturday.
Delivering a special address at the closing ceremony of the second KMB, Sathasivam said, "It has, in the process, raised Indian art to a global level." The art extravaganza will formally conclude on Sunday evening with the lowering of the flag at the main Aspinwall House venue.
Noting that the 108-day festival has mainly exhibited 100 works by 94 artistes from 30 countries, the Governor said a Students' and Children's biennale held as part of KMB'14 had the potential to churn out a new generation of top-class artists from Kerala and rest of the country.
"The word 'biennale' has now become very popular in this state even as it has origins in the Italian language where it simply means any event that happens every other year," he told the packed gathering at Ernakulam's Durbar Hall Ground, where Delhi-based Ska Vengers band later performed a lively reggae concert that spanned two hours and succeeded a dance show by Jazz Masters.
The closing ceremony, which was presided over by Kerala Culture Minister K C Joseph amid the presence of his cabinet colleague K Babu, was also addressed by legislators Dr Thomas Isaac and Dominic Presentation. Other dignitaries included Kochi Corporation Mayor Tony Chammany and Greater Kochi Development Authority Chairman N Venugopal, besides Kochi Biennale Foundation President Bose Krishnamachari, secretary Riyas Komu and KMB'14 curator Jitish Kallat.
In his presidential address, Joseph expressed happiness that a deluge of criticism that plagued the first edition of the biennale in 2012 had "completely vanished" two years later by when the ongoing KMB began in December 12, 2014.
"The biennale is a big blessing to Kerala; its aesthetics are a major exposure to its people," he added.
Dr Isaac said a rising middle-income group in the contemporary economy would mean a gradual surge in investment in art and encouragement to the world of culture.
Komu, in his welcome address, said KMB, with its manifold rise in use of public space, has change people's general notions about contemporary art.
Also, India's only biennale has managed to clear a cloud over its British-narrated history by bringing in artworks that invoke momentous episodes from the country's past, he added.
Kallat recalled the challenges he took up ahead of the biennale as its artistic director, while Krishnamachari, proposing thanks, said the curatorial theme of 'Whorled Explorations' was a "runaway hit" from day one of this biennale.
The Ska Vengers concert, staged amid strobe lights and loud cheers from the crowd, was powered by its young artistes, blending Ska rhythms with elements of dub, punk, jazz and rap.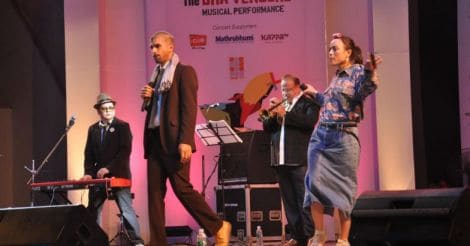 The Ska Vengers band performing at the closing ceremony of Kochi Muziris Biennale 2014 at Durbar Hall in Kochi on Saturday
Incidentally, KMB'14 showcased the richness of Kerala's traditional ensembles at its opening show. That was at Fort Kochi's Parade Ground, where renowned chenda maestro Peruvanam Kuttan Marar led a two-hour show of 300-plus artistes on the state's ethnic drums, pipes, horns and gongs, ahead of Chief Minister Oommen Chandy inaugurating the second edition of India's only biennale.