It is not rainy season in Kerala, but unseasonal rains continue to pour. There is one more week to go for the month of Libra. The coming of the Indian Super League is like the thinking that let it rain even if it is unseasonal. It was a cruel summer in Indian football – a summer lasting decades. The nascent buds of the game all withered away in it. Grounds came to be deserted. The crowds vanished from the grounds. The cheers became distant.
World Cup comes once in four years in June and July when the monsoon thunders down in our land. Indians lose sleep and sit in front of the TV late into the night and in the wee hours in anticipation. Gradually Euro Cup and Copa America began to appear on TV. TV channels came with the live telecast of European leagues to ignite the fire in youth. The ball started rolling on the internet as well. The Kasaragod kids began to recount to their grand elders about everything from the size and depth of the players' pockets to what is seen tattooed when the shirtsleeves are rolled up.
Cricketers continued to proclaim their suzerainty in this country even as the encyclopedias of world football lived here. When the World Cup was staged in Germany and Brazil, Indians including Keralites went there in large numbers and watched the games. Though Brazil is very far away, Keralites went there too to catch the World Cup action live. Football is second in India in popularity. Four crore people in India regularly watch English Premier League football telecast on TV. Many club owners in England are shocked at this news. But to watch India's national league championship called I-League, the crowds do not throng the stadiums except in Kolkata and Goa.
Ten crore Indian TV viewers casually took in the sights of Costa Rica, a country with a mere 45 lakhs population, scintillate in the World Cup. We continued to tune in to the news of a football team from Iraq, a country which knows no peace day and night, fight it out in the game in various parts of the world. Indians continue to learn about the minnow nations proving through football that the world belongs not just to the big ones. We stood mouth agape hearing about a hairdresser's son in England installing a chocolate statue of David Beckham in Japan.
Changes including the installing of the Beckham statue were made possible thanks to the football revolution that Japan started in the eighties. Japan's beginning move was to bring Zico, better known as White Pele and kick-starting the J-League Championship. Later Japan played host many times to the World Club Championship. The jointly held the World Cup with Korea in 2002. India does not even figure in the top 150 places in world ranking. It is in this circumstance that the international football organization FIFA said that India is a sleeping giant and if woken up, miracles will happen.
Indian football is waking up. But the lethargy of too much sleep cannot that easily be shaken off. This is exactly why FIFA gave India a medicine – an opportunity to host the Under-17 World Cup in 2017. A team of under-17 needs to be groomed. Venues need to be arranged. Three years from now the football world will look forward to India. The game fever needs to catch up in the country much before that. It is in this context that Indian Super League football (ISL) is arriving.
The goal that France's striker David Trezeguet scored for Monaco against Manchester United in the European Champions League was at a speed of 96 miles per hour. It was a lightning goal like what Beckham and Roberto Calasso net in.
If anyone has predicted in 1998 that that Trezeguet would come and play in Kerala, he would have been lynched. … But it is becoming a reality. Trezeguet will don the boots for the Pune team in the ISL. Nicolas Anelka wore France's national colour 69 times. From today till the end of this year, India is where he will be living, his play unfolding before our very eyes.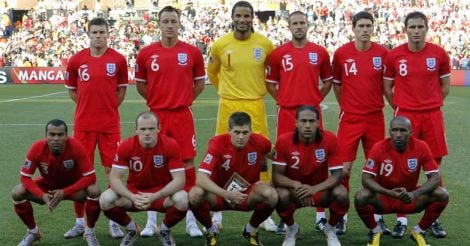 David James with the rest of the England team poses prior to the World Cup round of 16 match against Germany in Bloemfontein on June 27, 2010. File photo: AP
Italy's Alessandro del Piero and England's goalie David James will kick the ball in our yard. Which Keralite, used to seeing James play on TV alone would have thought that he will kick the ball on Kochi's soil, wearing a gold-bordered mundu. That has happened though. England player of Indian origin Michael Chopra is featured alongside James in the Kerala Blasters team. Zico, who coached Japan, is in India too. He is the coach of the Goa team. Sachin Tendulkar, M.S. Dhoni, Saurav Ganguly, Abhishek Bachchan, John Abraham, Ranbir Kapoor et al are the team owners.
The ISL is a performance enhancing drug for Indian football. When Del Piero and Anelka and Trezeguet and James enter the ground, people will come to watch the game. Ordinary Indian players also boot up before them. Indian football will fill TV like never before. It will be telecast not only in India, but also abroad. When world football and its riches open their doors to India, football seeps into the Arabian Sea as well. Football fever is here. When the ball game arrives like unseasonal showers, let us get soaked in it, let us celebrate. The strength of club football has always been in making a place and the public partake in it. Every goal that Manchester United or AC Milan or Real Madrid or Messi or Neymar scores will belong to that city and its lovers of the game.
Indians will be astounded at what Europe's clubs do for their own cities. Free medical checkup for those who come to exercise in the stadium premises in the morning. Some clubs offer free photography classes to youth and women.
England's Tottenham Hotspur runs a University approved Automobile Engineering Diploma course. Hotspur facilitates an avenue for the aged to get together every day and share their sorrows and seek recreation.
The club believes that the health of the city is their duty and that it is their responsibility to see that the youth do not go astray. Bulk of the money required for all this comes from selling TV telecast rights. In India also such changes are being ushered in, through ISL.