Guwahati: Ten-man Atletico de Kolkata lived up to their reputation as they outplayed hosts NorthEast United FC 2-0 to notch up their second consecutive win in the ongoing Indian Super League (ISL), here on Thursday.
Goals by Ethiopian striker Fikru Tefera Lemessa and Czech mid-fielder Jakub Podany gave the Sourav Ganguly co-owned Kolkata another three points after humbling Mumbai FC 3-0 in the tournament-opener on Sunday.
Fikru put the league leaders ahead with his 15th minute strike and carried on the lead till regulation time.
Jakub then slotted home a second in injury time to seal the game for Kolkata.
The team was reduced to 10-men in the 82nd minute after Borja Fernandez got the second yellow card. But the team kept its composure to hold on to a comfortable win.
Though Fernandez's sending off did lead to a commotion and a bit of a heated discussion with the referee, the tempers soon calmed down and play resumed. Coach Antonio Lopez Habas defended the team's behaviour.
"We need to check the videos. Many many such actions take place on the field. We are a professional team. We must defend our interest in the match," Habas said.
The Kolkata team also got another couple of opportunities, but NorthEast goalkeeper Alexandros Tzorvas of Greece foiled their attempts.
The John Abraham co-owned NorthEast United also got a few chances during the first half, but could not convert them.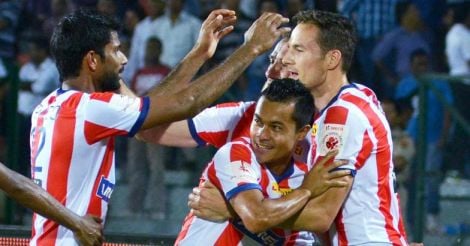 Atletico de Kolkata's Jakub Podany, right, celebrates with team-mates after scoring the second goal. PTI
Spanish recruit Koke, who scored the lone winning goal in the teams' first match against Kerala Blasters, could not convert a direct shot in the 51st minute.
"We are disappointed with the performance despite being a good team. I'm happy with the performance of my boys. We had so much chance in the front, but could not convert them into goals. We are very good side. We need to be better. It's going to be an interesting league," NorthEast coach Ricki Herbert said.
"I'm going to give confidence to the team and we are going to keep playing. We are going to be here till the end. We just need to be clever on front and more decisive. We need little bit more creativity. I'm very positive with the players, especially the young boys," he added.